With the warm weather and longer days, my family wants to be outside on our country property as much as possible. Whether we are spending time as a family or entertaining friends, it's important that we have great areas to be together. Our property is large and not landscaped, for the most part, making outdoor entertaining a challenge. We do have a large grassy area by our oak tree that we keep irrigated and mowed and we recently set out to make this space a living/entertaining destination. With the help of TIKI® Brand, I think we defined and staged a space that will be perfect for hanging out and hosting friends throughout the summer. I have been wanting to host an outdoor movie night for ages and I finally got the chance. I hope that some of my "secret tips" I share today will help you achieve an inviting space for relaxing and entertaining in your yard!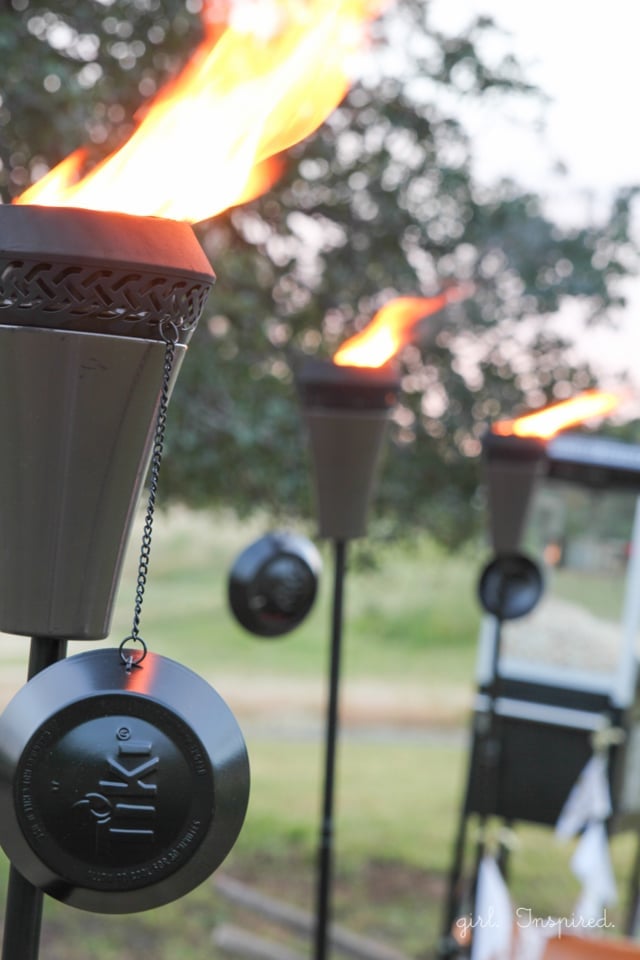 My first consideration when planning a party is the mood and feelings I want the space to evoke. In this case, it was important to keep the space easy-going and relaxed, consistent with the country feel of our property. I gathered barrels, trunks, baskets, and buckets to hold food and drinks, blankets, and games. The natural textures and rustic feel of the furnishings, coupled with some glassware and linens give the space a familiar comfort while still maintaining a clean, organized party.
Outdoor entertaining requires defined spaces so that guests know what you expect them to do at your party and they know where to find what they need. We created three areas: a play area, a dining area, and a lounge/movie watching area.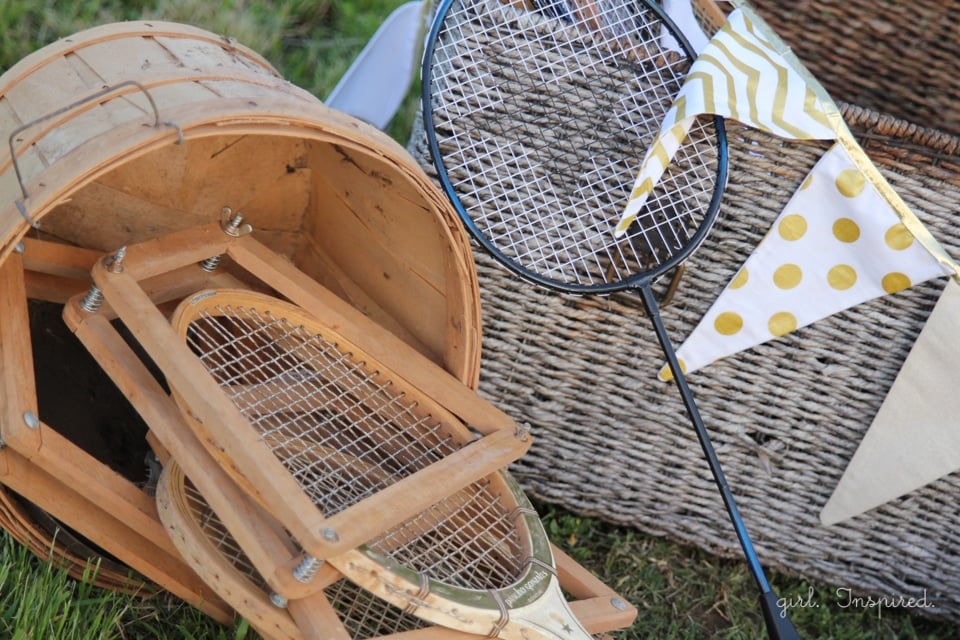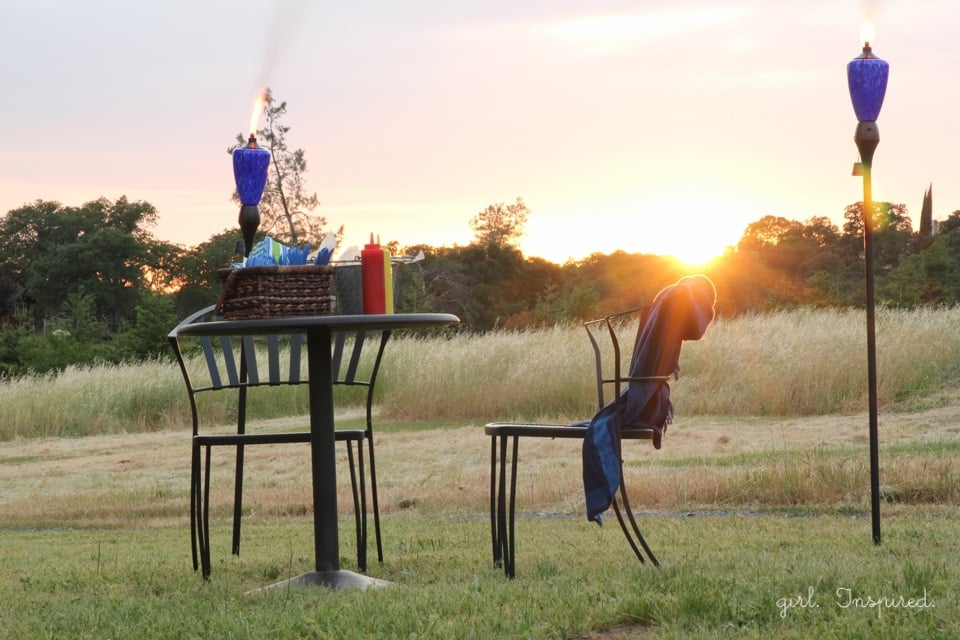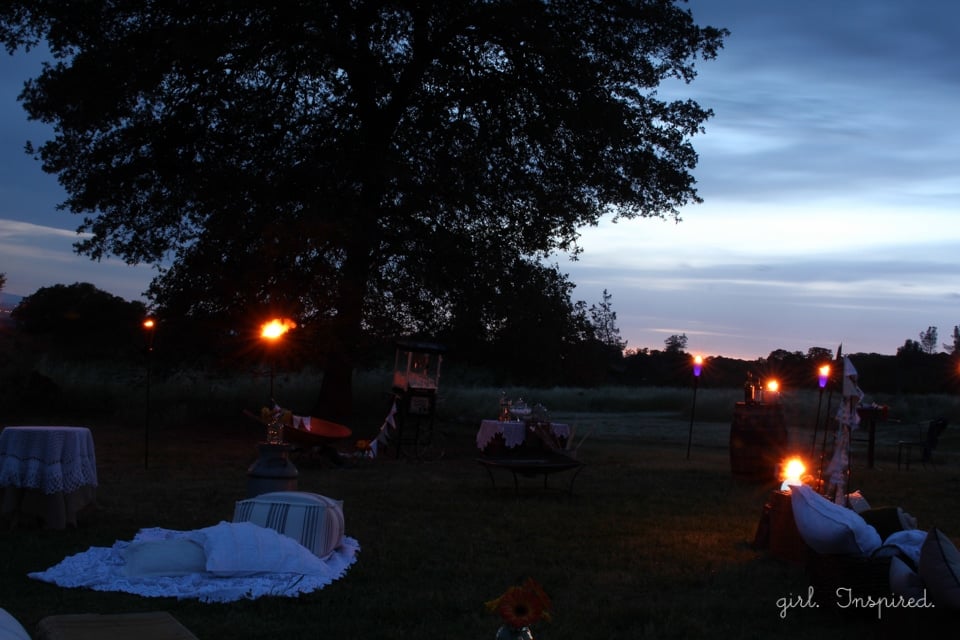 Our space was quite large, but we used two different types of torches to define the perimeter. The TIKI® Brand Island King® Large Flame Torches were placed around the fire pit area, extending around the back of the movie area and over to the play area. Spacing them about 6 feet apart, and placing the movie screen in the middle, gave us quite a bit of distance to form a perimeter.
We used the TIKI® Brand Glowing Torches to mark off a dining area. The glass dome is battery powered, giving a really cool blue (or color-changing) glow. We also set up a play area with a volleyball net and trunk of activities. Croquet equipment, bats and balls, badminton racquets, etc. are available for afternoon and early evening play. The net and lack of torches helps to define the "play" space separate from the other areas.
Of course, food and drinks are essential for any party. Plan food items that are easily transported to the outdoor space. I think it's easiest to serve food that can be prepared in advance or at the party. We had hot dogs for roasting, chips, veggies and dip, and a simple pasta salad. Be sure to keep food covered or in containers to deter bugs and dirt.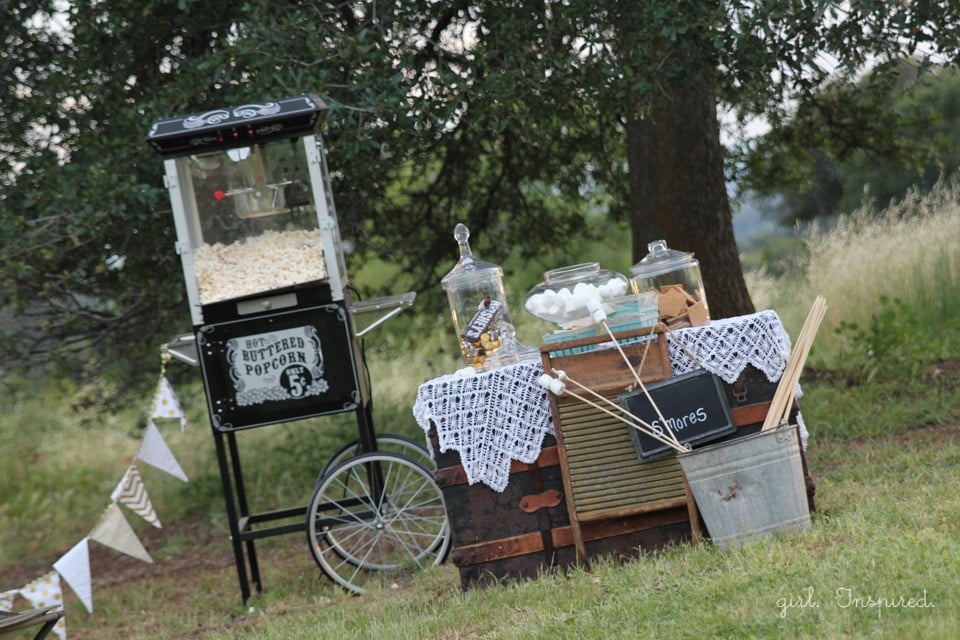 S'mores go hand in hand with an evening outdoors and this little snack station was simple to set up. A few glass jars house the graham crackers, marshmallows, and chocolate, and a bucket holds stakes for roasting. Everyone loves gathering around the fire pit!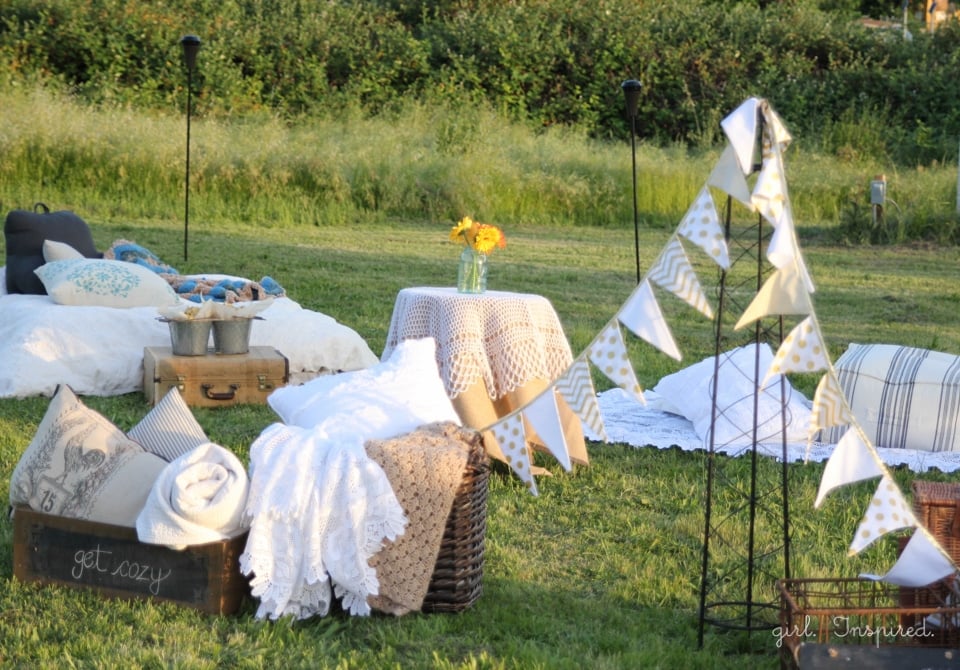 Plan for weather changes, even in the warmest summer months. If you have guests during the afternoon and into the evening, be sure to have plenty of blankets for staying warm and getting comfortable. The fire pit and torches also add some warmth and keep the party feeling cozy.
Lighting is key for entertaining outdoors. This entertainment space is not very close to our house and I really appreciated how easy it was to plunk the torches into the ground and light them for beautiful, ambient light without needing to run power cords down to the space. The TIKI® Brand Glowing Torches looked especially cool as the night grew darker. It's also nice to have some small flashlights on hand for trips up to the house, but the torches and fire pit really lit up the whole space enough that we could navigate our way around without needing brighter lights.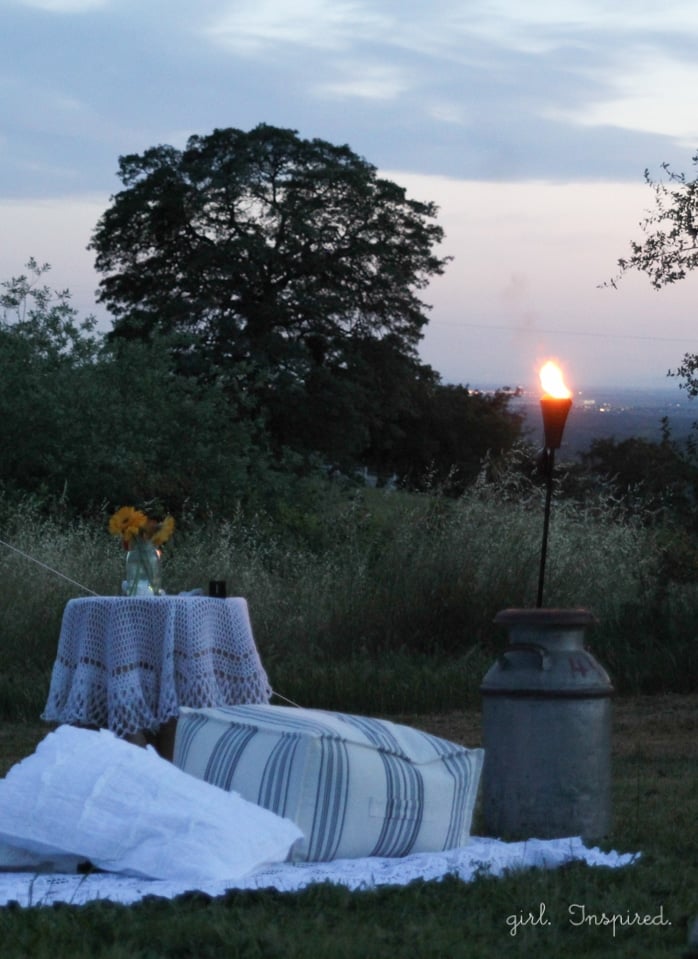 Be sure to consider any special touches that would make your space more comfortable and festive for your guests. Fabric banners are quick to make and can brighten a space instantaneously. Flowers are easy and always classy. Mosquito repellent would be a great thing to keep handy for evening entertaining as would consideration for windy weather. And on that note, the TIKI® Brand Glowing Torches and Table Torches really lived up to their claim to hold up in the wind–it was so windy we had to anchor the movie screen to the ground in all directions, but not one flame blew out the entire night! I was impressed!
I am SO thrilled with our outdoor space. We've already spent quite a bit of time out there and it's set up in a way that we really can use it for daily fun as well as entertaining. If you're planning an escape to your yard this summer and would like to entertain guests, I hope that my seven secrets for summer entertaining will be useful:
Set the Mood
Define the Space
Provide Activities
Food and Drinks
Consider the Weather
Light the Way
Special Touches
Sometimes planning a party or planning a living space can be overwhelming, but I think the things we talked about today will help you stay on track to achieve a wonderful space that you can be proud of!
And one of you will have the opportunity to kick off your space with some TIKI® Brand products of your own!! This sweepstakes prize will include: 2 TIKI® Brand Glowing Torches + 1 TIKI® Brand Glowing Table Torch + 1 64oz Bottle TIKI® Brand Torch Fuel + 1 Snap & Pour = Retail Value $102.95 (all of which you can purchase at WalMart if you are interested). To enter, please leave a comment below; tell me: How does the TIKI® Brand help to create the perfect environment for your outdoor entertaining?"
This post is sponsored by TIKI® Brand, but as always, all opinions are my own.
Sweepstakes Rules:
No duplicate comments.
You may receive (2) total entries by selecting from the following entry methods:
1. Leave a comment in response to the sweepstakes prompt on this post
2. Tweet (public message) about this promotion; including exactly the following unique term in your tweet message: "#SweepstakesEntry"; and leave the URL to that tweet in a comment on this post
3. Blog about this promotion, including a disclosure that you are receiving a sweepstakes entry in exchange for writing the blog post, and leave the URL to that post in a comment on this post
4. For those with no Twitter or blog, read the official rules to learn about an alternate form of entry.
This giveaway is open to US Residents age 18 or older. Winners will be selected via random draw, and will be notified by e-mail. The notification email will come directly from BlogHer via the sweeps@blogher email address. You will have 72 hours to respond; otherwise a new winner will be selected.
The Official Rules are available here.
This sweepstakes runs from 5/15/2014-7/4/2014.
Be sure to visit the TIKI® Brand page on BlogHer.com where you can read other bloggers' posts!