Finally! I'm making my way through the disorganized mounds of sewing and craft supplies that have been littering our bedroom floor since we had to move everything out for the floor redo. I've never had a great system for storing my fabric, but now that I am sewing on a regular basis, I need a workable system more than ever! There is quite a bit of work left to be done, but I was so excited about my weekend fabric accomplishment that I thought I'd share! It's looking so pretty!
I first saw these Fabric Organizers on Lindsay's blog, The Cottage Home. As soon as I saw this post of Lindsay's studio, the fabric organizers went on my list, but I wasn't able to purchase them until last week! They are made from a lightweight material with little tabs to secure your fabric to the organizer. It wraps up into neat little bolts which fit perfectly on my old desk.
I grouped the fabrics by color as I went along, moving them around until I found the color progression visually appealing. Once I lined them up on my desk, I made a couple breaks in the row with large jars that I have filled with ribbon. I may not keep the large ribbon jars, but I do like the groupings. It makes me so happy to have all my pretty fabric out where I can stare at it! Kind of like my very own fabric shop.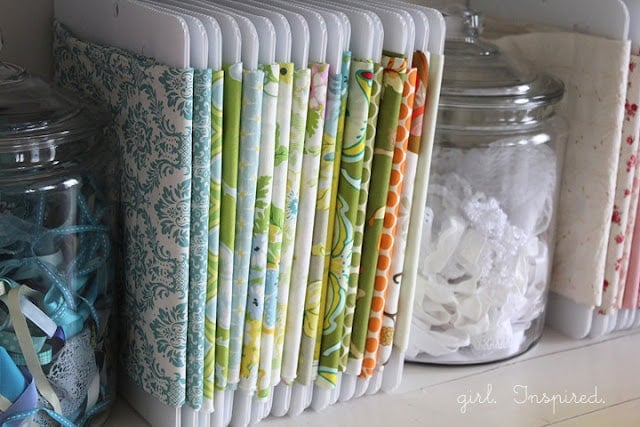 It's a small dent in mission reorganization…