There is just something about gathering with friends in the spring sunshine that is so appealing, isn't there? I was chatting with a couple girlfriends recently about getting our summer gardens started and one of them proposed that we share seeds. Our conversation was interrupted by the kiddos (doesn't that always happen?) and I drove home reflecting on the unfinished conversation. A seed had been planted in my party-loving heart and over the following weeks, the idea for a garden and seed exchange party developed. The concept is this: everyone comes together for a little outdoor socializing, bringing with them some spring seeds and/or seedlings. A light brunch is served while guests plant seeds and divide up packs of starter plants, and then everyone heads home with a good variety of vegetables and flowers that they can transplant into their gardens when the ground is ready. Sounds fun, doesn't it?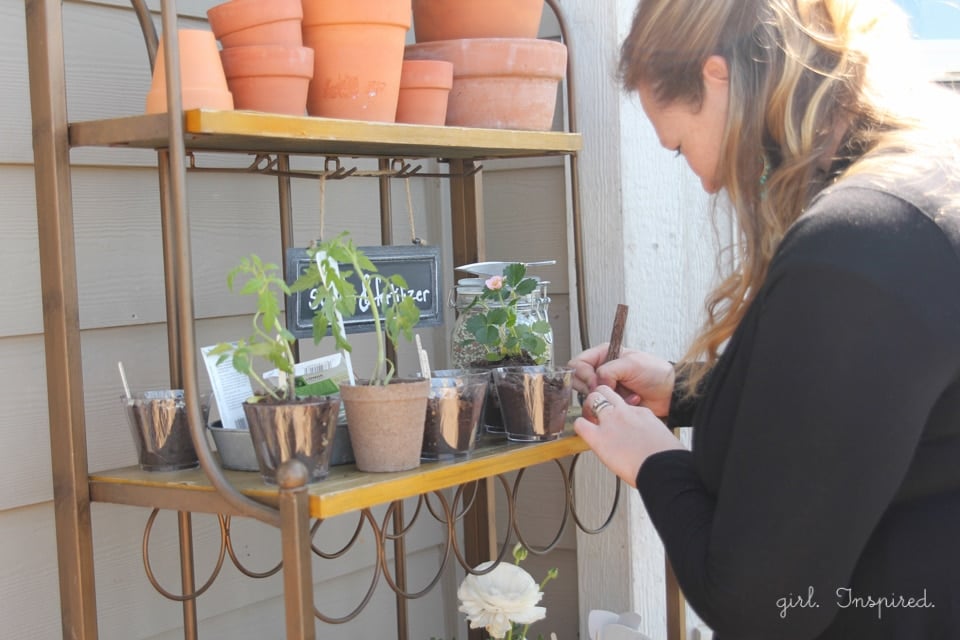 I put together a garden and seed exchange party and I am SO excited to be able to share it with you today. I wanted to keep the theme of both food and decor light and fresh and garden-centric. Foods were easy to prepare in advance, and tableware was simple enough to use outside. With some basic gardening supplies, potted plants, and the stylish Chinet® Cut Crystal® line of products, I think I was able to achieve a classy, but casual feel for the party – perfectly in line with an adult brunch mixed with hands-on gardening.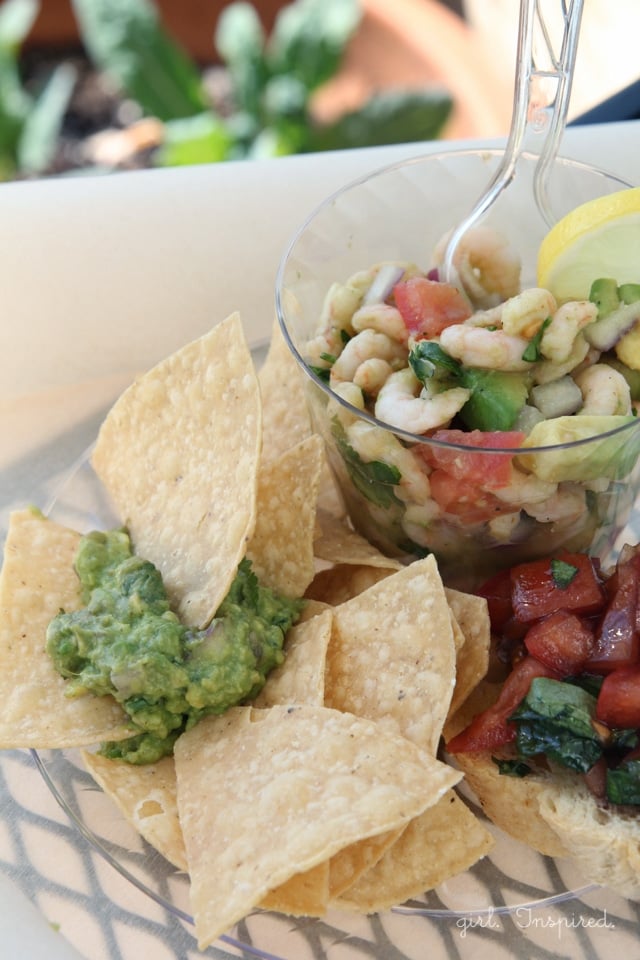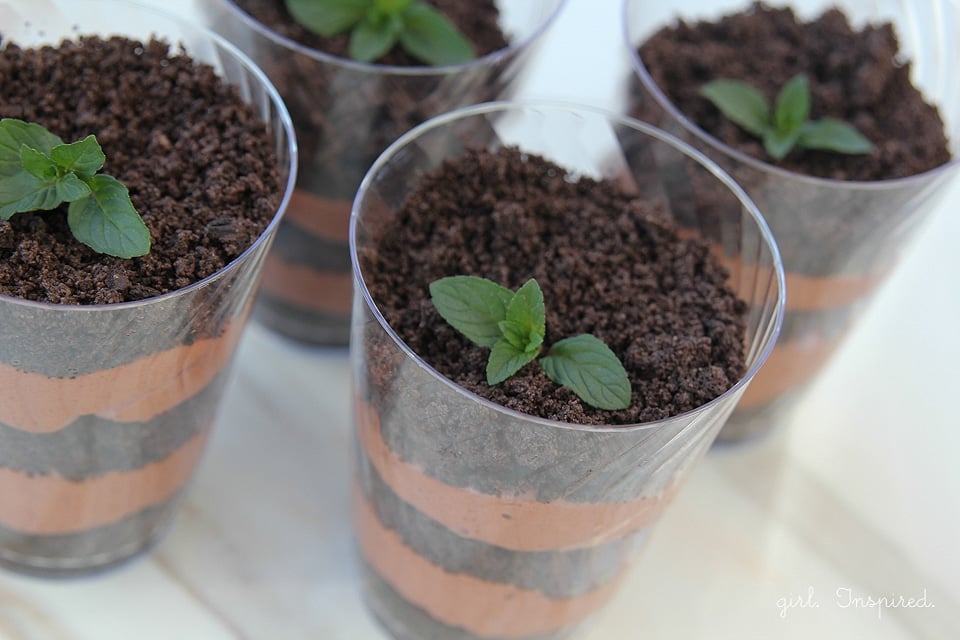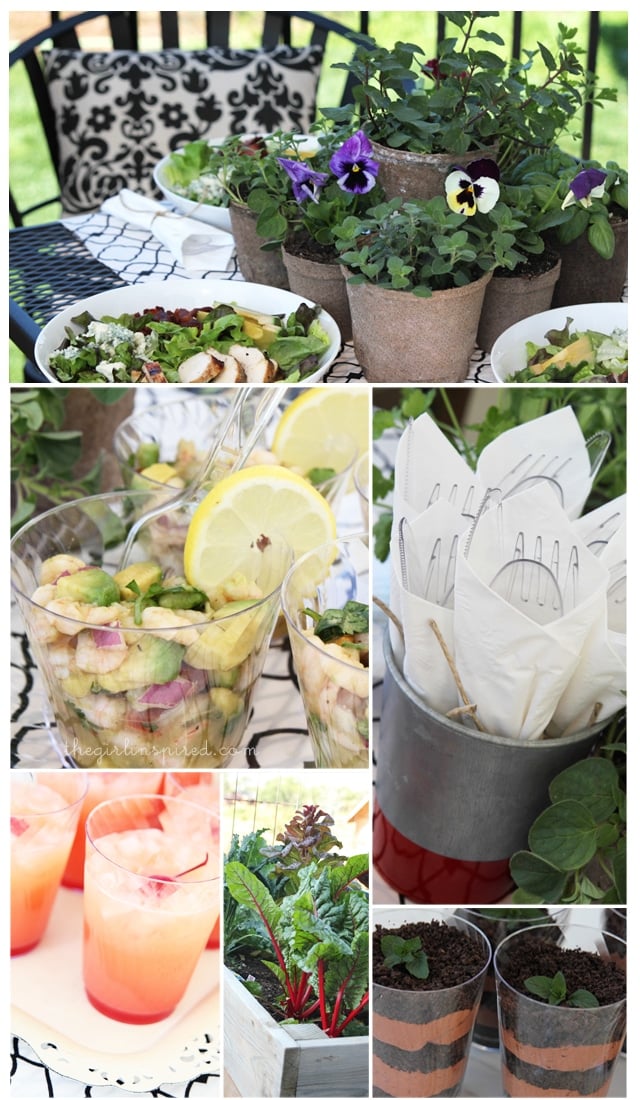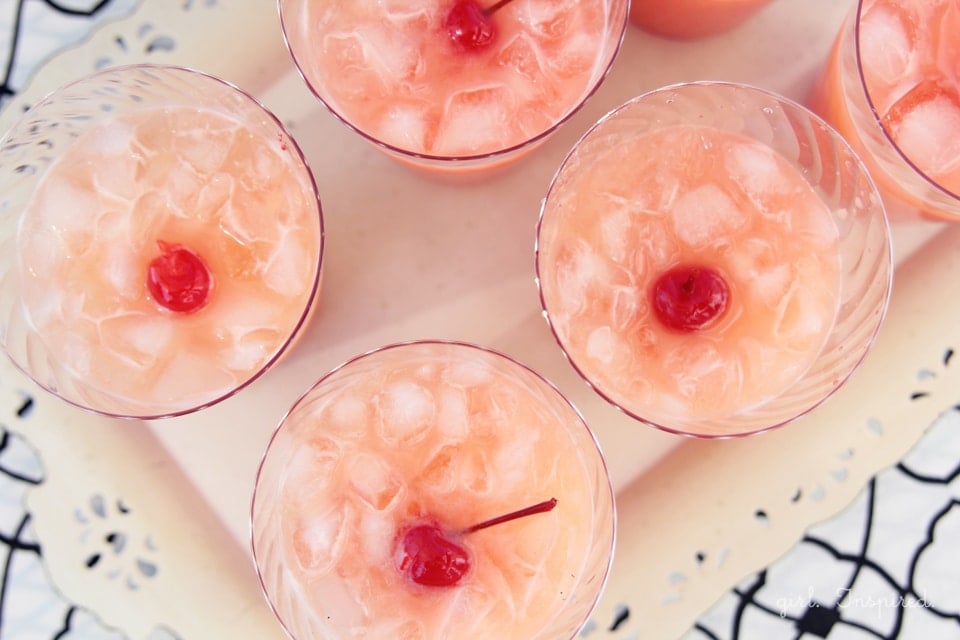 Let's start with the menu. Appetizers included shrimp ceviche, bruschetta, and chips with guacamole. The main course was a chicken chopped salad with cilantro-lime dressing. For dessert, we had chocolate mousse cookie crumb parfaits. Drinks included fruit infused water, and both an alcoholic and non-alcoholic spritzer. This menu worked really well with my effort to simplify and streamline the preparations. Ingredients such as tomatoes, lime, avocado, cilantro, and red onions were shared between the dishes which made grocery shopping a quick and painless process. By using Chinet® Cut Crystal® plates, short and tall cups, and cutlery, I had perfectly coordinated premium tableware, but also the added convenience of using disposable products right alongside our gardening projects! Perfect! I complemented the tableware with some galvanized tubs and trays and a modern black/white printed fabric – I think the whole look blends beautifully. The only dishes I had to clean at the end of the party were my salad plates and my pitchers! I love that!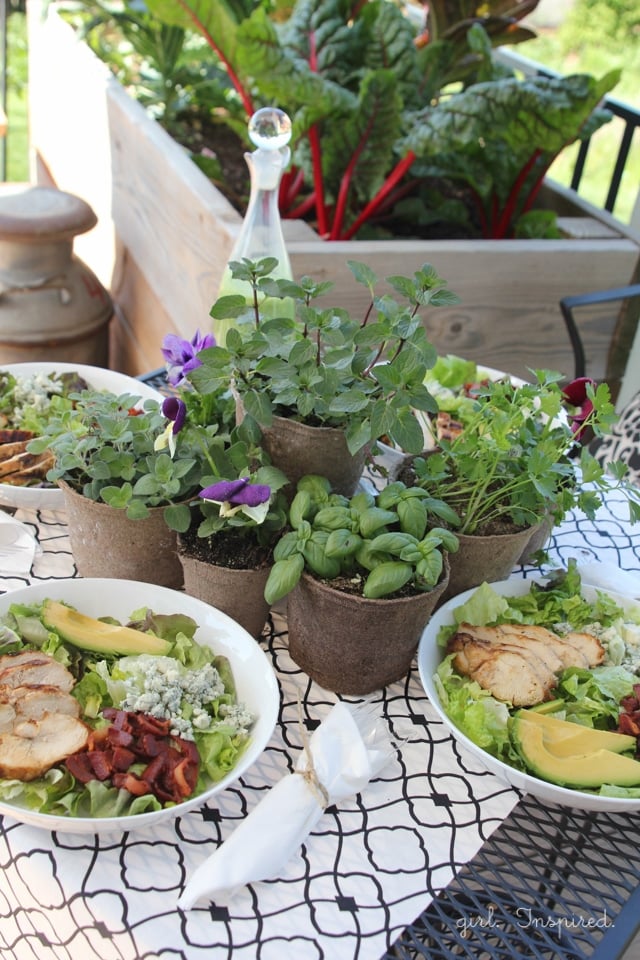 For table centerpieces, I grouped small plants and herbs – this takes all of 30 seconds to set up and you've got plants ready to go into the garden beds when the party is over! Look for plants that are sold in the biodegradable pots – the earthy rustic pots will blend with your decor as opposed to the less attractive orange and black plastic containers that some plants are sold in. (You can alternately pot up some plants into the biodegradable pots -they are very affordable, but it will take a bit longer to set up).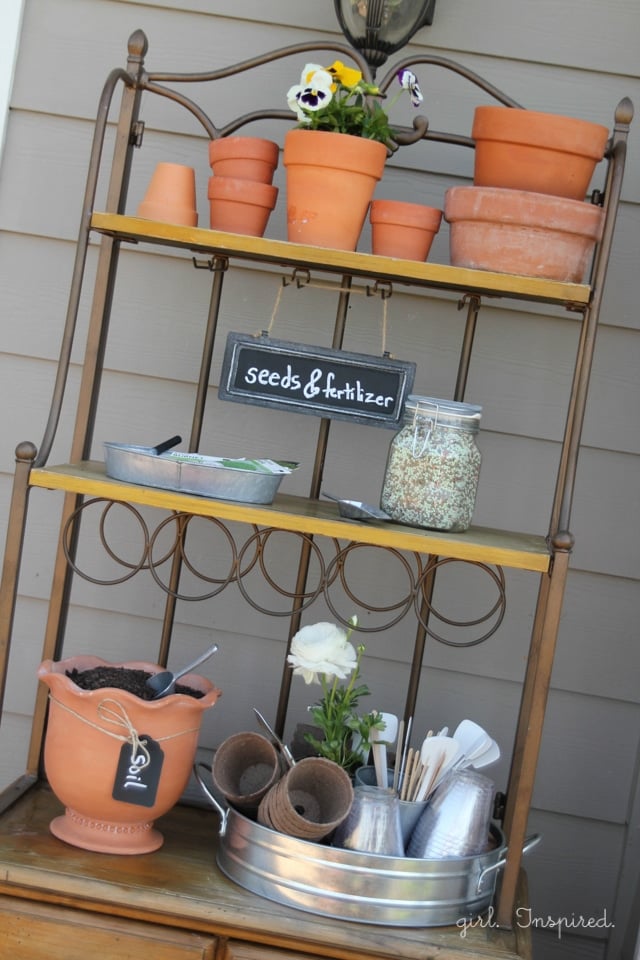 On to the seed exchange portion of the party! This was so much fun to set up, I was actually rather disappointed no one was home to squeal with me when I stepped back to look at the finished potting station. I set up two main areas to highlight the gardening project – a plant collection area and a potting/planting area.
The plants were collected in and around this fun rustic box I found at Home Depot. I bought it because I couldn't resist the easy button, but how simple would it be to build your own? Some chalkboard paint on the side of a plywood box – amazing! I think it's fun to have a pretty arrangement from which to select your plants and I typically use both seeds and seedlings when I plant my garden, so this set-up was useful and also adds to the decor.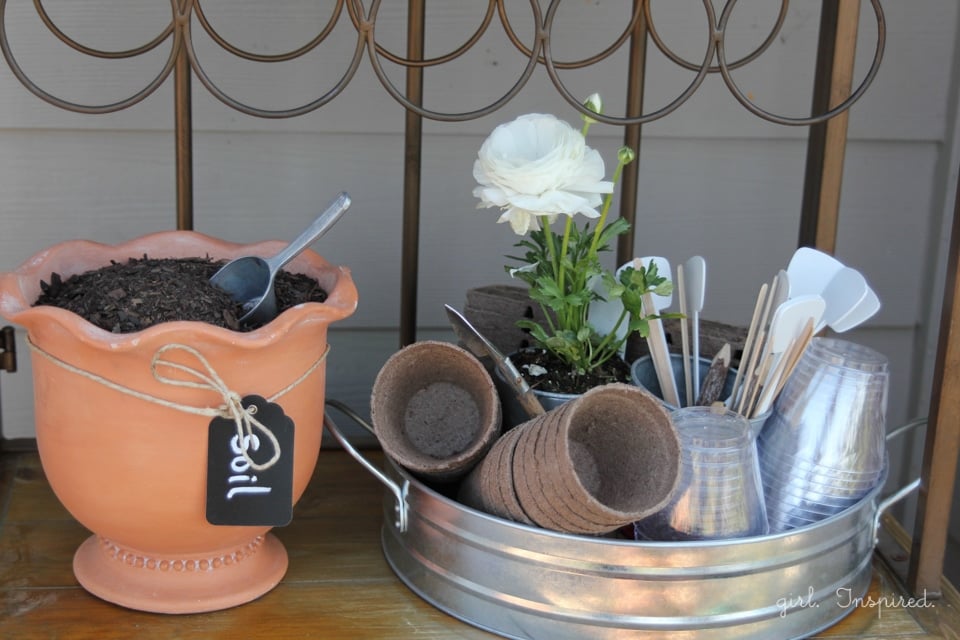 The potting station makes me smile. We have a tray for all the seed packets, and a jar filled with fertilizer. A large terra cotta pot holds soil and a large tray holds potting containers, labels, and pencils. So fun, right? I provided a variety of potting containers because I like to use different things for different purposes. Even though the Chinet® Cut Crystal® cups don't have holes in the bottom for drainage, they work really well for keeping seeds in moist soil and it's fun for my girls to be able to see the roots growing in the soil through the clear cups. Biodegradable pots work great for fragile seedlings like cucumbers that don't typically transfer well for me and, therefore, can be plunked into the ground as is. I always like a lot of coordinated variety, so I really wanted to provide a little bit of everything so that my guests had their preferred planting and labeling methods available.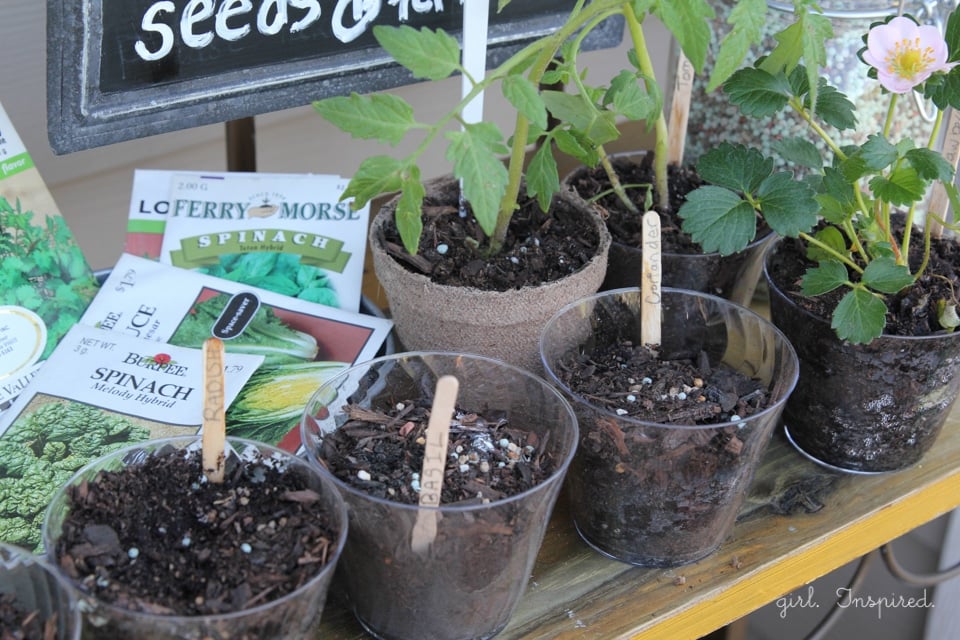 I couldn't have been more pleased with how everything turned out – a huge thanks to the Chinet® Cut Crystal® brand for providing the perfectly coordinated tableware for this party. You can check out my "Outdoor Dream Party" Pinterest board here to see many of the ideas and recipes that inspired this party and also be sure to visit the Chinet® Pinterest Page here. For a chance to win a $100 Visa gift card and a Chinet® Cut Crystal® party pack, leave a comment telling me how you make your celebrations perfectly coordinated.
Sweepstakes Rules:

No duplicate comments.
You may receive (2) total entries by selecting from the following entry methods:
Leave a comment in response to the sweepstakes prompt on this post
Tweet (public message) about this promotion; including exactly the following unique term in your tweet message: "#SweepstakesEntry"; and leave the URL to that tweet in a comment on this post
Blog about this promotion, including a disclosure that you are receiving a sweepstakes entry in exchange for writing the blog post, and leave the URL to that post in a comment on this post
For those with no Twitter or blog, read the official rules to learn about an alternate form of entry.
This giveaway is open to US Residents age 18 or older. Winners will be selected via random draw, and will be notified by e-mail. The notification email will come directly from BlogHer via the sweeps@blogher email address. You will have 72 hours to respond; otherwise a new winner will be selected.
The Official Rules are available here.
This sweepstakes runs from 4/1/2014-5/7/2014.
Be sure to visit the Chinet® Cut Crystal® brand page on BlogHer.com where you can read other bloggers' posts!