It should come as no surprise to you that, after deciding she wanted an ice skating birthday party, Grace also requested a Frozen theme. Because the party was at an ice skating rink, there weren't a ton of opportunities for crafting and decorating, but I squeezed a few in anyhow! This first project is fairly quick and simple and only requires a handful of supplies. I used my Cricut Explore to cut out a pile of snowflakes from a glittery silver cardstock. This took some time for the machine to cut out the intricate design, and it also required a fresh blade in the machine, but after patiently waiting, I had a gorgeous little pile of shimmery snowflakes. I used them to create these Frozen birthday party cupcake toppers and party bags!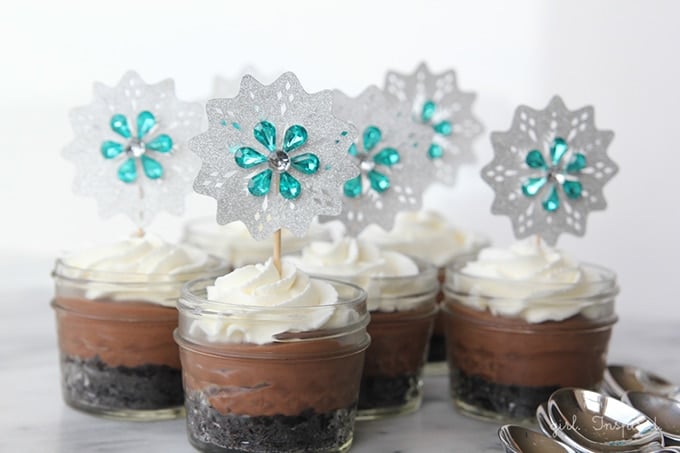 For the cupcake toppers, I hot glued a larger snowflake to the top of a toothpick and then glued a jeweled flower (in Frozen colored perfection) in the center of the snowflake. These looked so great in the mini chocolate cream pies and were a cinch to assemble. I carried them to the party in a Ziploc and stuck them into the pies after piping on the whipped cream. Easy Peasy!
With the smaller set of snowflakes, I created some pretty clothespin clips to top off the party favor bags. A quick dab of hot glue onto the blue clothespins and they were ready to go. I also cut a set of labels with the Cricut while it was out and wrote up the guests' names with a silver Sharpie. Fast projects that make a big impact are hard to pass up! If you don't have a cutting machine like the Cricut, check your local craft or scrapbooking store for pre-cut snowflakes and labels – I'm SURE you can find something that will work perfectly! Have fun!