Summer vacations provide opportunity for some of the BEST family memories. I have such vivid memories of my family vacations when I was a child.
We camped. All summer long, all over California and the West. When I tell my girls about my childhood, the stories almost always relate back to summer vacations. A few weeks ago, Graham and I braved our first solo camping trip with the girls. We've taken them camping a couple times before, with a group of friends, but we wanted to see if we could pull it off with just our family. We took a trip up to the very north coast of California, to a place that is special to both of us. Graham grew up in Humboldt County, mostly Eureka, and we spent some time driving around the city. He showed the girls his elementary school, one of the houses where he lived, and the park where he played as a kid.
The Eureka City Park, by the way, is one of the most incredible city parks I've ever seen. All the usual play equipment and picnic tables, but complete with slides coming out of the trees and the most stunning redwood forest trail area. The girls were elated to visit the same places their dad grew up. They remembered stories he'd told, like when his dog followed him to school one day (no joke!), and he got to show them the very path he and the dog had taken – the girls just ate it up!
We camped for four days at Patrick's Point State Park. When I was a child, we camped all over, but every single year, we camped with cousins at Patrick's Point. I had shared specific memories with Graham and the girls and we recreated our own special memories by engaging in the same things I did as a child.
We played at and scoured the seashore at Agate Beach.
We hiked the fern-and moss-laden trails.
We ate the same "camping" dinners that I remember from my childhood and roasted marshmallows around the campfire. So many wonderful, happy memories.
I have to say, my girls were not nearly as thrilled with the discovery of banana slugs as my siblings and I seem to be in that first picture above. They did not wish to pose with this slug we found. Ah well, they'll remember other things.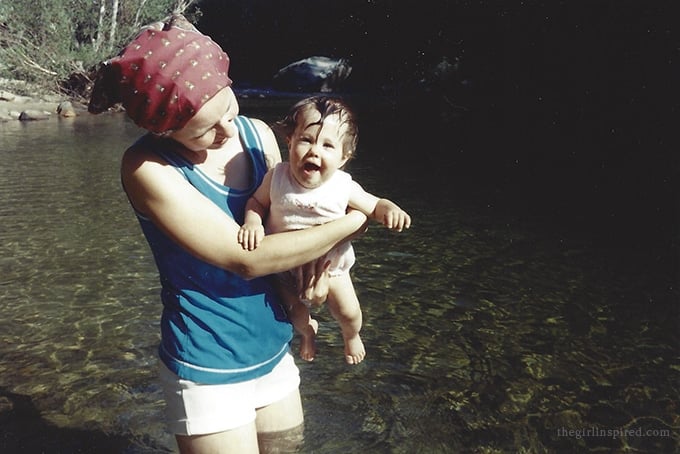 I love this picture of my mom holding me on a camping trip when I was just a tiny thing. It reminds me to get out there and explore with my family. Travel near, travel far, revisit the places that made me happy as a child, find new places to create memories for my girls that they can take into their families someday. Sitting at home being scared of all the work involved, or getting wrapped up in the overwhelming number of unfinished chores, doesn't get us anywhere. And it doesn't facilitate that unmatched feeling of family togetherness that I want so desperately for my family.
There's no better vehicle to bring the family together than the Chevy Traverse. With seating for up to 81., everyone in the family can join in on the fun. A 5-Star Overall Vehicle Score for safety2. helps keep everyone safe on your journey to find new roads, no matter where, or how far, it takes you. And best-in-class maximum cargo space makes packing for family road trips, or hauling around children's sporting equipment, a breeze. With all these great features and more, there's no question the Chevy Traverse is the ultimate family vehicle. Learn more at https://www.chevrolet.com/traverse-mid-size-suv.html.
Standard on LS and 1LT. Available on 2LT. LTZ seats 7.
Government 5-Star Safety Ratings are part of the U.S. Department of Transportation's New Car Assessment Program (www.SaferCar.gov).