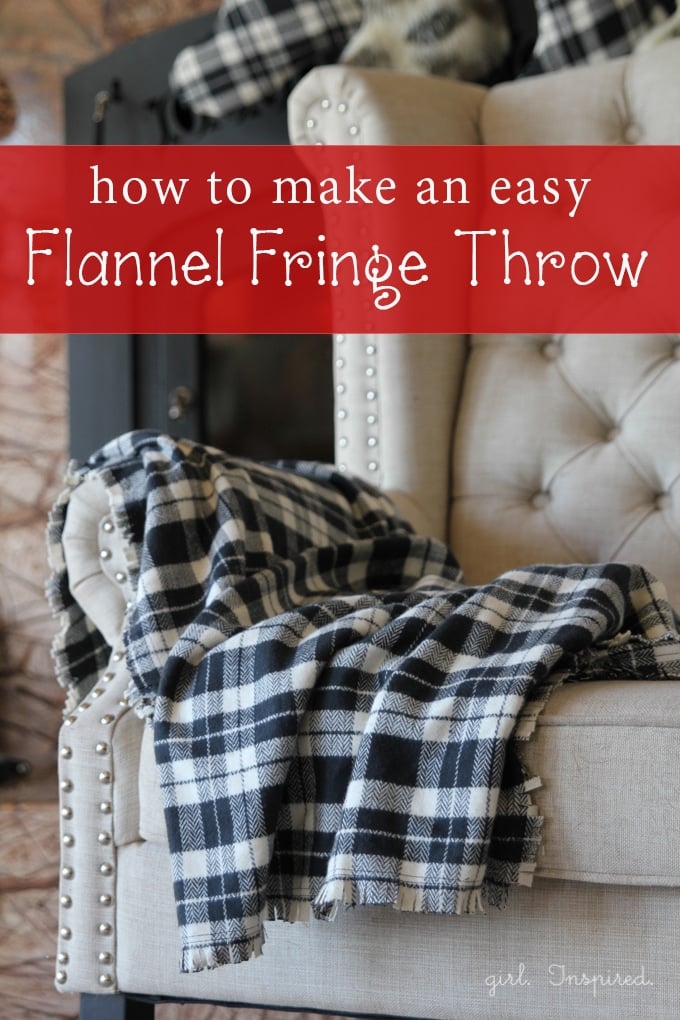 We've done an unusually crazy amount of traveling this month and I'm glad to be back home and settled in for the cozy holiday season. I *may* already have my mantle decorated with stockings and a faux tree twinkling in our master bedroom. I'm excited to get back to some sewing and my craft room has a pile of fabrics waiting to be made into something awesome or at least pet a bit. I had some yardage of a nice, thick plaid flannel from Jo-Ann leftover from another project and I found myself wanting to just wrap it around my shoulders and cozy up on the deck. With just a few minutes of work, I turned the piece of flannel into an Easy Flannel Fringe Blanket. This is an easy project that anyone can do!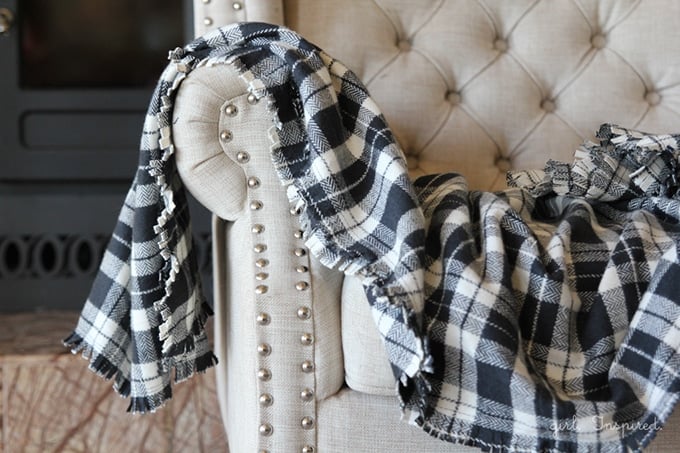 Supplies:
1 ⅔ yards of thick flannel (46″ wide)
matching thread and sewing machine
fabric scissors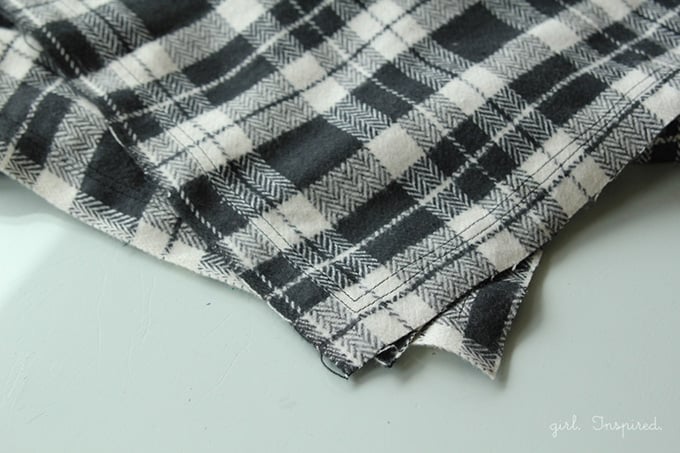 Step 1: Begin with a single layer of thick flannel – it's easiest if you have the fabric store cut it to size – I made a nice size rectangle that would work well for throwing around my shoulders or as a lap blanket on the couch. The first step is to stitch around the perimeter of the fabric. Consider how long you want the fringe pieces to be and stitch your first border to the inside of your fabric edge by this amount. For example, I wanted about a 1-inch fringe (rather short) and so I lined up my fabric so that the edge fell 1″ away from the needle – I was then able to stitch a border exactly 1″ inside the perimeter of my fabric. As you stitch down the edge, stop 1″ from the bottom of the fabric, leave your needle in the fabric and turn the fabric so that you can continue sewing down the next side 1″ in. Continue all the way around. Stitch another row ¼″ further inside the first row of stitching. You are obviously not actually sewing anything together – the reason for the stitching is to help the single layer of fabric hold its shape AND it gives you an even line all the way around to keep your fringe even! If you don't sew, you can skip this step and still make a useable throw blanket.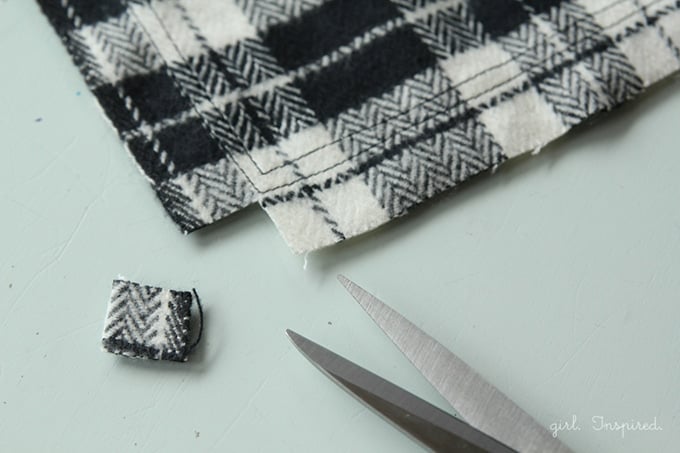 Step 2: Cut a 1″ square from each corner (adjust for your specific fringe depth).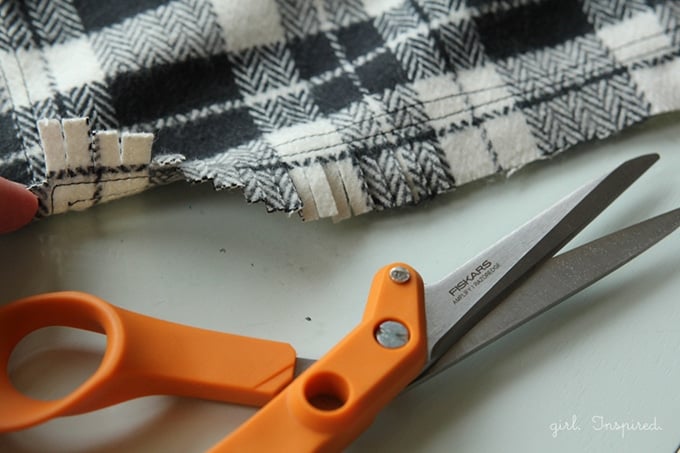 Step 3: Now, cut your fringe! There's no right or wrong way to do this – again, cut whatever depth you prefer (1″ shown here) and whatever width you like. If you make your fringe strips too narrow, you'll have a harder time keeping them uniform and you run the risk of chopping some right off. I did about a ¼″ inch, maybe a hair less. If you're using a nice plaid, you can use the lines of the print to help guide you with even cuts. Give your hands a few breaks as you work your way all the way around the blanket and before you know it, you're done!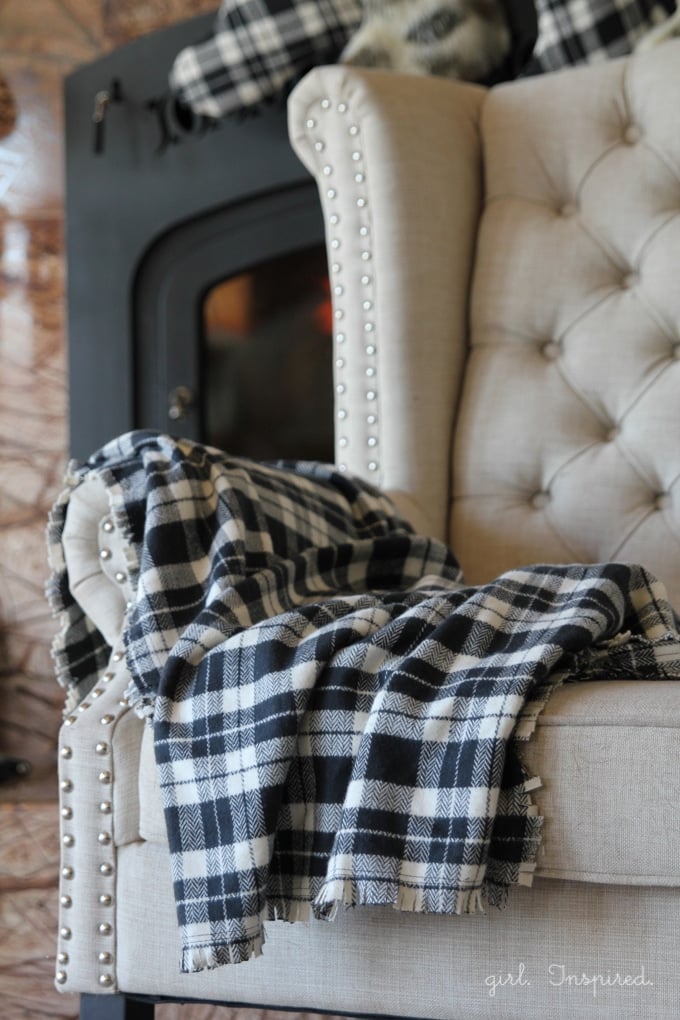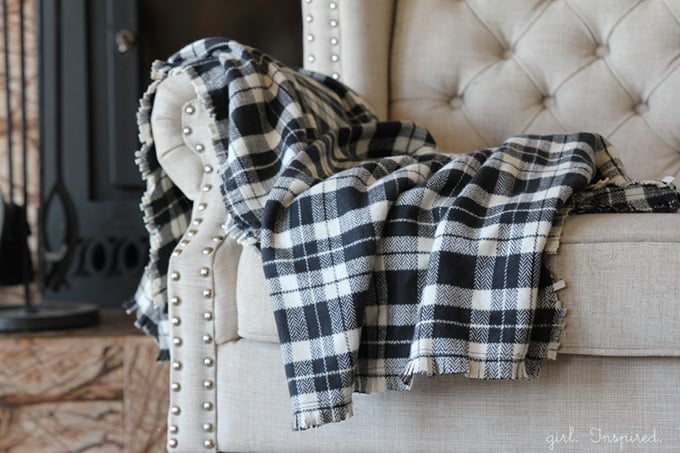 ENJOY!!
Make a few and roll them up to give as gifts to your favorite people! These are so versatile and since they pack up small, they'd be great to toss in a college kids suitcase or a sports fan's car! Have fun!