Over the past few weeks, seamstresses have been sewing like mad to provide field workers and also their neighbors with fabric face masks. This week, professionals are begging for altered headbands and gadgets to help save their ears from the discomfort and pain of wearing ear loop face masks for their 12-hour shifts. I sat down to start making headbands and found myself wondering where to place buttons to account for different head shapes. Then I realized that we can make an ear-saving button band for surgical face masks by using a short strip of elastic that can stretch around the back of the head or neck. These take literally seconds to make and they are super comfy for men and women to wear. Scroll down for the video and to see how fast you can sew a button on with the proper sewing machine foot!!
Let's Make Ear-Saving Button Bands for Surgical Face Masks
These button bands are so easy to make. The only supplies needed are ¾″ or wider elastic (wider than the elastic needed for sewing face masks, so you should be able to find this more easily) and ½″ buttons! A button foot for your sewing machine comes in SUPER handy. No elastic? No sewing machine? No problem – read on for how you can make these bands for ear loop face masks without elastic or a sewing machine!
Time needed: 1 minutes.
How to Make Ear-Saving Button Bands for Surgical Face Masks
Cut elastic.

Cut your elastic strips. You need one strip for each band. I liked 9″ strips of elastic for a band that can go up around the crown of the head. If you'd like to make straps that rest around the back of the neck, I would suggest 7″ strips.

Turn ends under.

Turn each end under approximately 1″ – just enough to double up the layer under your button.

Sew button on.

Now you sew on the buttons! For ultimate speediness, use a snap-on button foot like this one (aff). You will never sew another button by hand after you meet this baby. I have a lesson on how to use the foot here. Basically, you need to put the feed dogs down and set your machine on a zig zag stitch, adjusting the width of the zig zag to make sure your needle goes through the holes of the button and doesn't hit the actual button. Don't have a sewing machine? No problem! All you need is a needle and thread for this project (and a couple minutes instead of seconds.)

Finished!

Repeat until Granny's button jar is empty and give them to every healthcare worker you know! Good job.
It really couldn't be simpler. If you don't have elastic, cut up some knit – the edges don't fray, but you can fold it over for just a bit more of a base. Easy peasy! I cut up some old Lularoe leggings and made a fabric ear-saving button band for surgical face masks. They're super soft!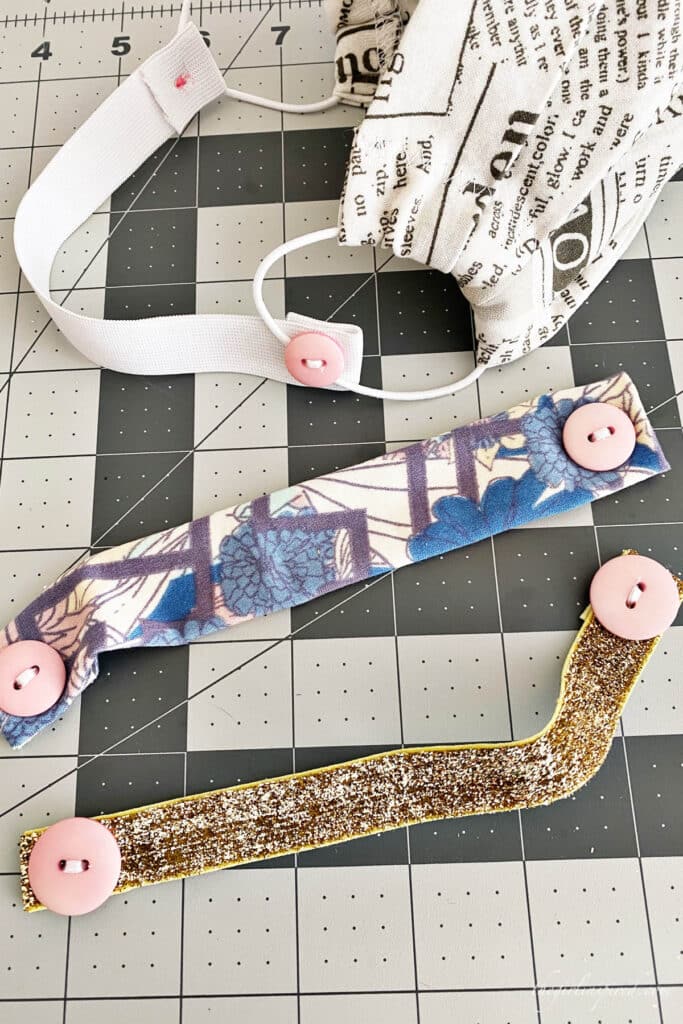 Face Mask Sewing Resources
Still working on sewing fabric face masks? Find the right pattern and supplies in these posts.