How was your weekend? We fit in some cookie decorating fun and a photo shoot with good friends and some last minute shopping. It was a good weekend, but I didn't do a drop of sewing and I have a few items left on my to-do list. It will be a busy week!
Did you catch up on your quiet books? We're just about done and they'll be ready for wrapping. Today we're going to do the crayon pocket page and then you can start assembling all the pages with batting and we'll finish them off tomorrow.
The crayon pocket page is a single page and will be placed opposite the inside of the back cover. You will need: one piece of scrap fabric, an equal piece of lightweight fusible interfacing (not fusible web), a piece of ric rac, a small notepad, and five pretty, new crayons.
Cut your scrap fabric and interfacing to 4″ by 10 ¼″. Fuse scrap fabric and interfacing together (for kit users: stack interfacing, bumpy side up, then fabric right side up, press on cotton setting for 10 seconds per section).
Cut a piece of ric rac to 10 ¼ inches and align with top edge on right side of fabric. Stitch using a ¼″ seam allowance, which should put your stitches right down the center of the ric rac (if you're using a different size ric rac, make sure your stitches go down the center).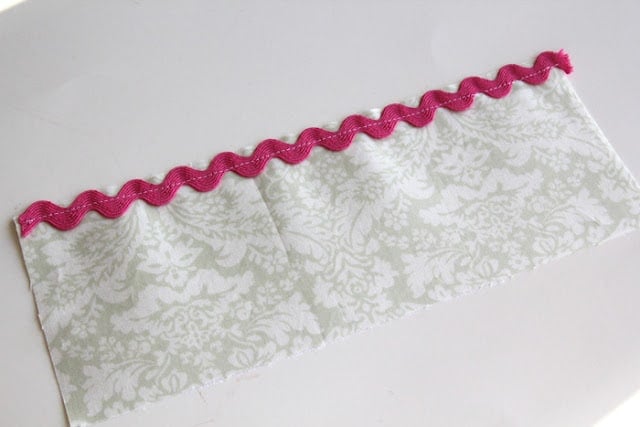 Flip the seam to the backside of the fabric and press (be careful your hot iron doesn't melt the polyester ric rac).
Top stitch along the edge to hold the seam in place.
Starting on the right-hand side of the pocket fabric, draw a line (using disappearing ink fabric pen) every 1″. Draw a total of five lines.
On your background fabric, mark one line, 1″ in from each side. Beginning at that right-hand mark (1″ in on background fabric), measure ¾″ in to the left and draw a line. Mark a total of five lines, each ¾″ apart.
Lay your pocket fabric on top of your background fabric and align the bottoms of both pieces. Pin the left side of the pocket fabric with the left-hand mark (1″ in from left side) on the background fabric. Pin the right side of the pocket fabric with the first right-hand mark. Stitch the two sides in place and run a zig-zag stitch over the edge to secure it.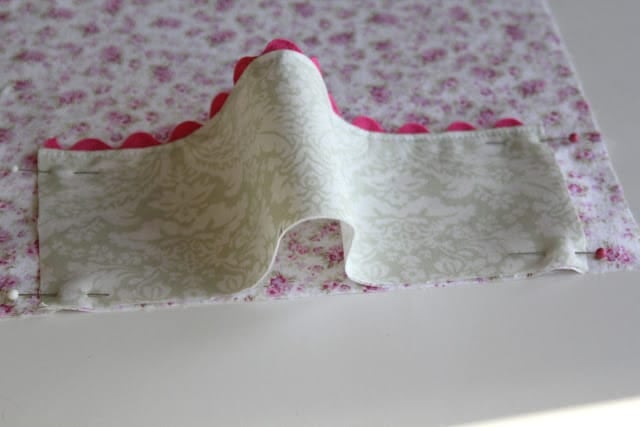 Now, you're going to sew your crayon pouches. You will sew the pouch lines one at a time (note: I do not have the full lines drawn out in these pictures, but it's much easier that way). I pinned them one at a time and then sewed straight down the line. I started with the left-most lines and worked to the right. As I pinned each subsequent line, I just finger-pressed the bulge of the top fabric to the left. I hope this makes sense.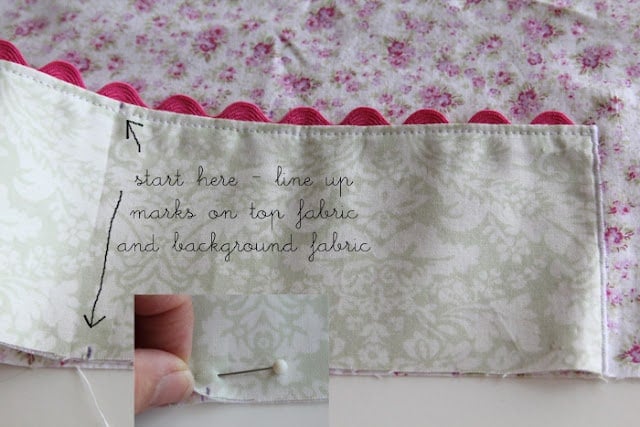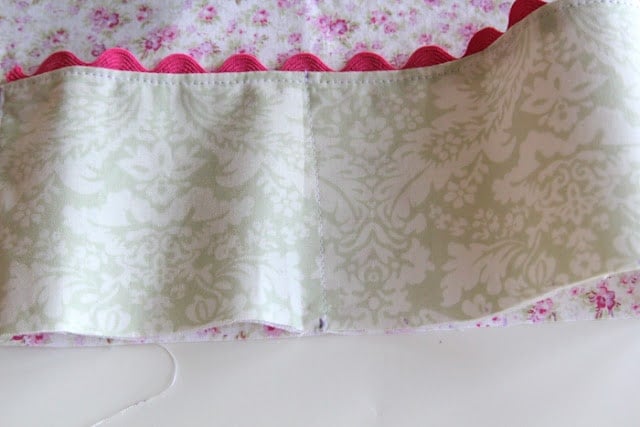 Once you have all your crayon pockets sewn, pinch the center bottom of each pouch and press it to the side. Stitch across the bottom to hold everything in place (be sure you stay below that ¼″ seam allowance for when you sew up the book).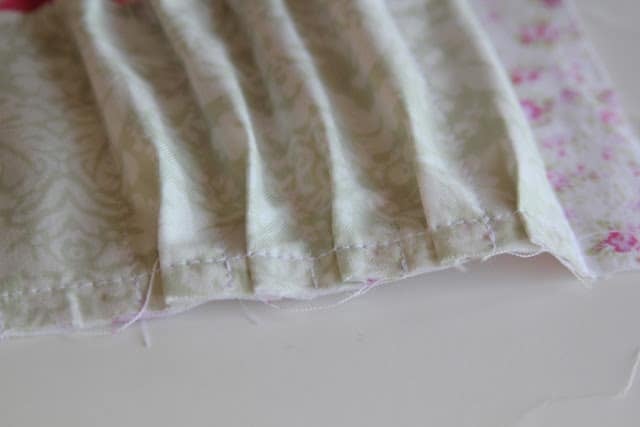 Got it? Questions? Troubles? Cheers?
Now you have all the pages completed and you can lay them out together to form the pages of the book. Once you have everything in the order that you want, stack each page with its batting and sew them together like we discussed in the front cover post,
here
. Leave the inner seam open.
So close!!! Some of you have asked about sharing pictures. I think that I can create a flikr group to share pictures, BUT I'm really technology challenged and it's going to take me some time to figure out how to do it, SO, if you have a blog and want to post links in the comments section, have at it. Otherwise, I will try to do the flikr group when I have a bit of time to dedicate to it.