This blueberry frosting recipe is silky, sweet, slightly tart and is a must have when making blueberry cupcakes or lemon blueberry cake.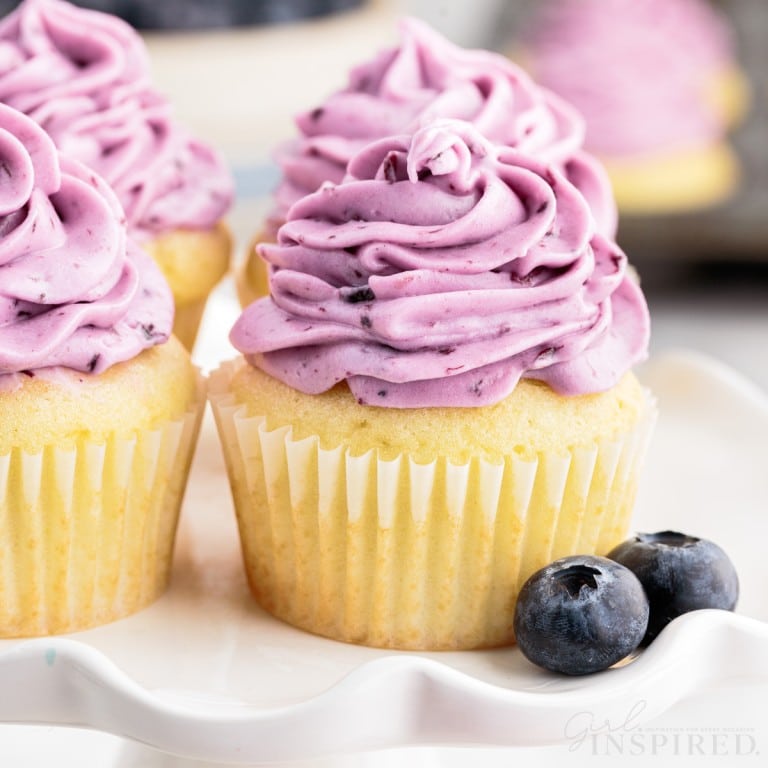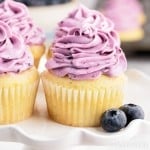 Blueberry cream cheese frosting is rich, thick, creamy, and only requires 6 ingredients. It has a ton of blueberry flavor and goes great with many different cake and cupcake recipes.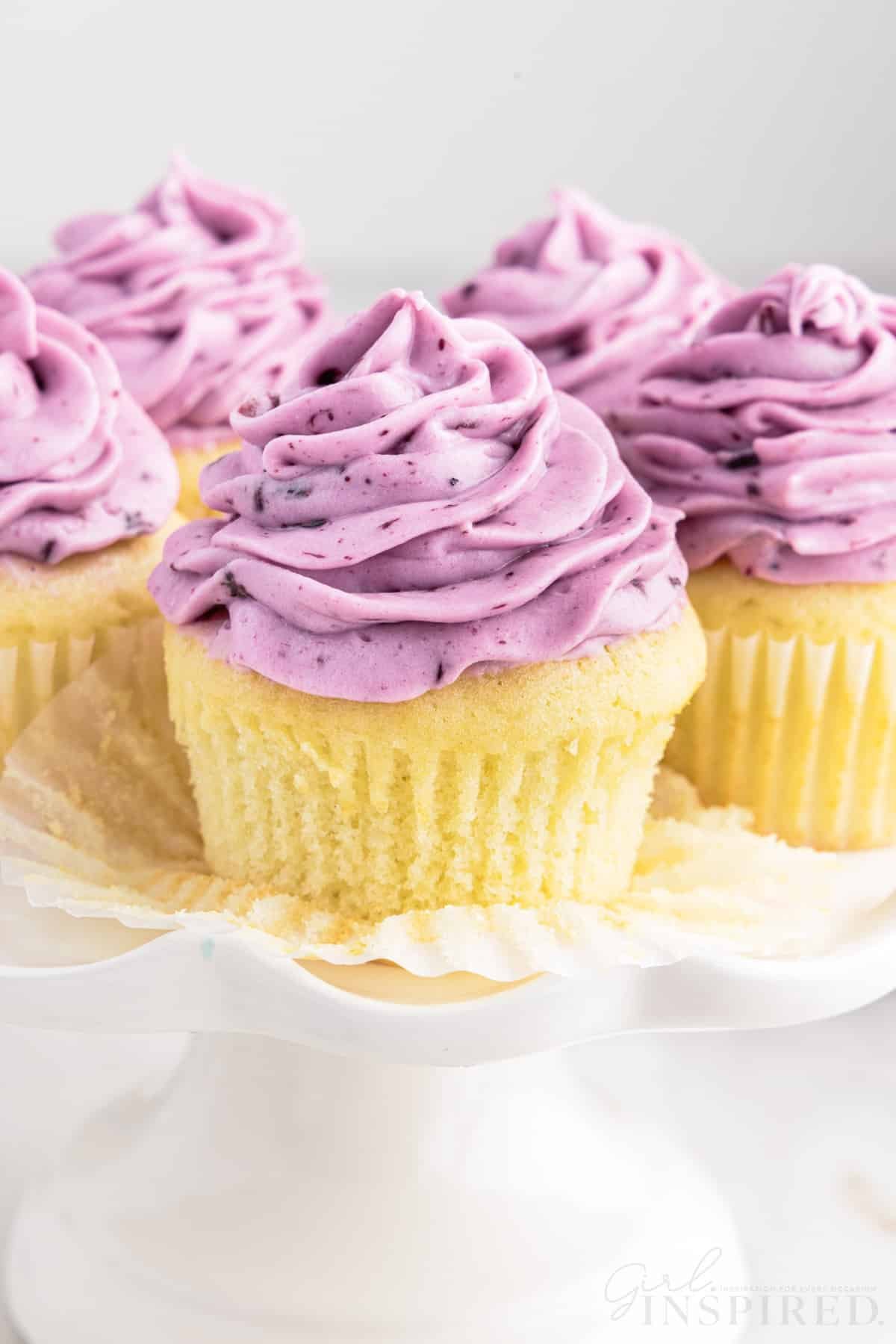 Even though vanilla buttercream goes with a variety of cake flavors, I really like it when the icing uses fresh ingredients to stand out from the crowd. Blueberry frosting pairs perfectly with a classic white cupcake, lemon cake, or lemon cupcakes. Something about the tangy lemons and sweet blueberries makes the best combo! The first time I used fresh fruit I made a strawberry version, which also compliments lemon.
To use up more of your blueberries, try lemon blueberry bites, blondies, mini blueberry pies, or blueberry lemon bread. Normally we glaze the loaves, but you can also use this frosting and add a thin layer over top.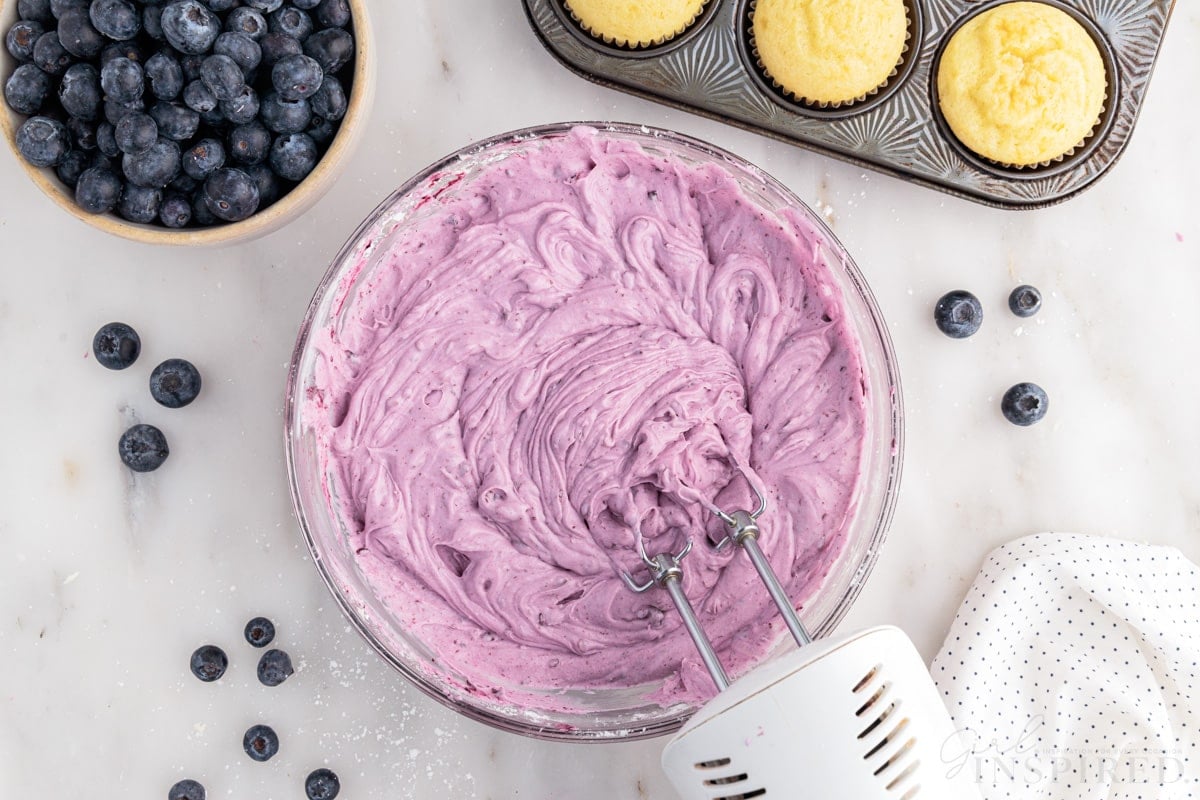 What do I Need for this Recipe?
🧁 Ingredients:
fresh blueberries – wild blueberries have more flavor than farmed.
sugar – gives our reduction a little sweetness
salted butter – adds flavor and creaminess to the frosting
cream cheese – use full-fat cream cheese
powdered sugar – added sweetness and helps with consistency.
vanilla extract – rounds out all of the flavors.
Optional Garnish:
Once you have piped the frosting on the cake or cupcakes, you can garnish them with fresh lemons (lemon slices, twists, or lemon zest) or fresh berries.
Equipment Needed:
Handheld electric mixer – can also use a stand mixer with the paddle attachment
Potato masher – to mash the blueberries
Large mixing bowl
Disposable pastry bag – if you want to pipe it onto cakes or cupcakes
Variations and Substitutions:
Frozen berries – If you are using frozen blueberries add them directly to the saucepan from the freezer. After a couple of minutes they will soften enough so you can mash them.
Lemon blueberry frosting – add a drop or two of lemon extract when making the icing.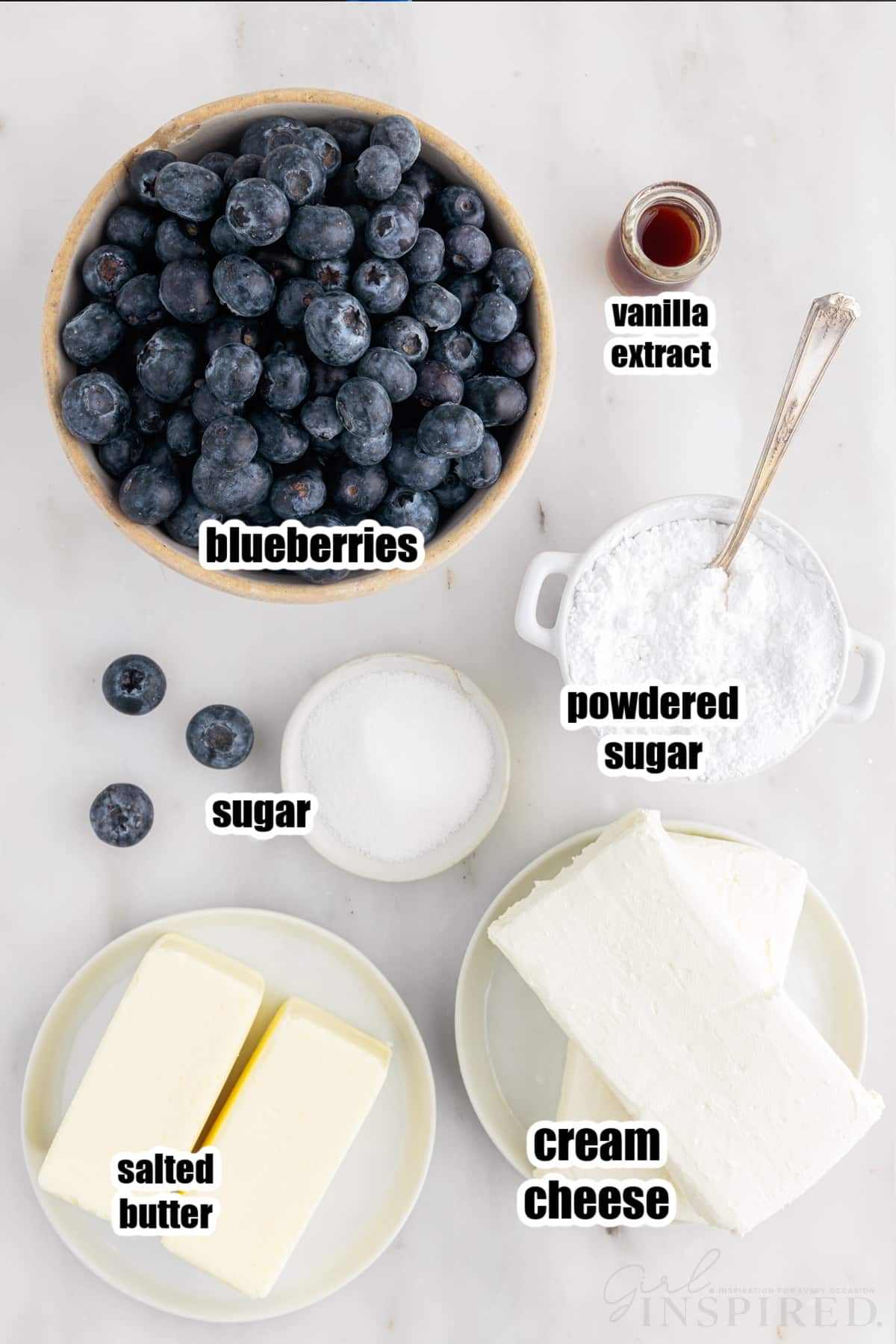 🔪 Instructions:
PREP: Rinse blueberries and pat dry.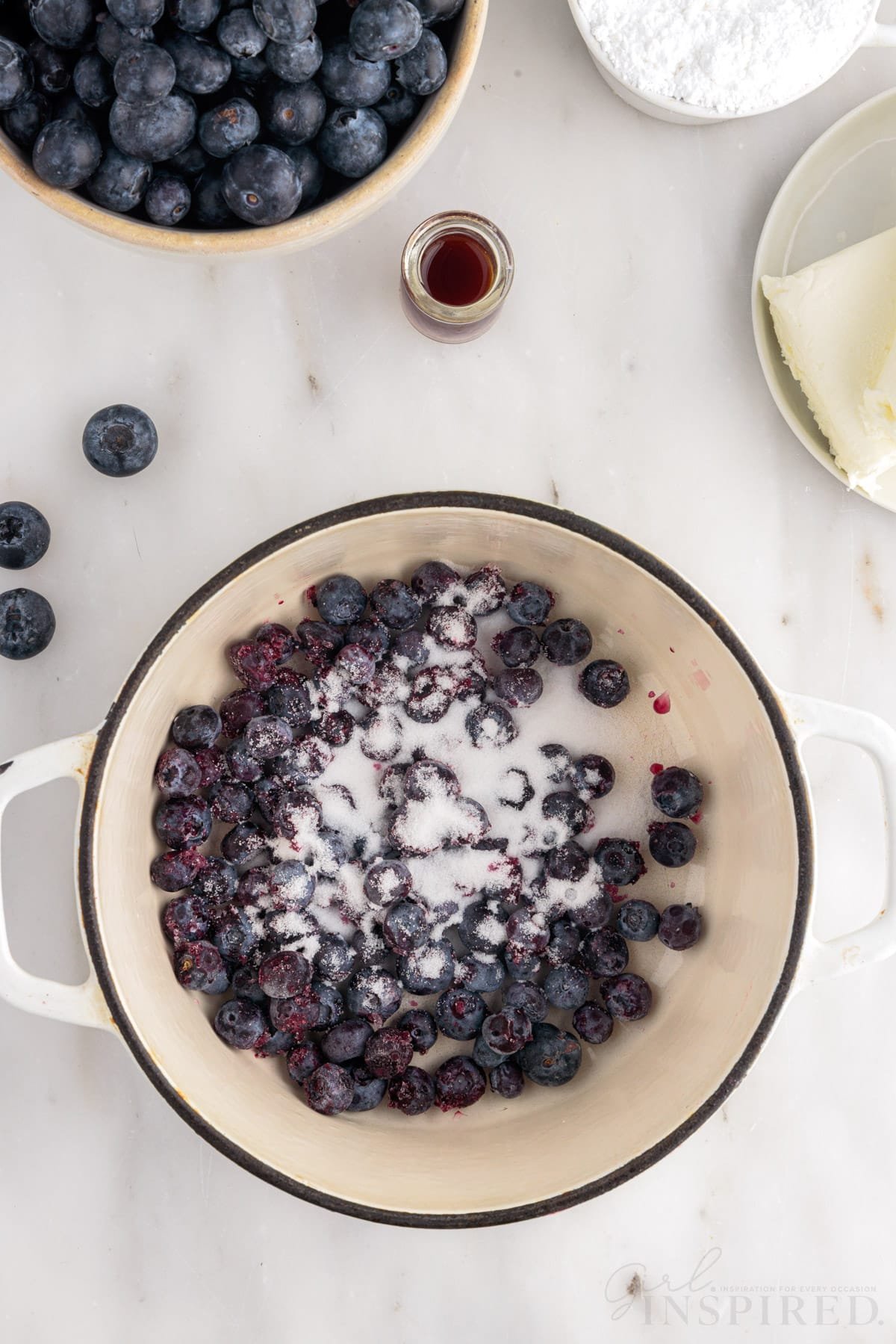 Step 1: Heat the wild blueberries and sugar in a saucepan over medium heat.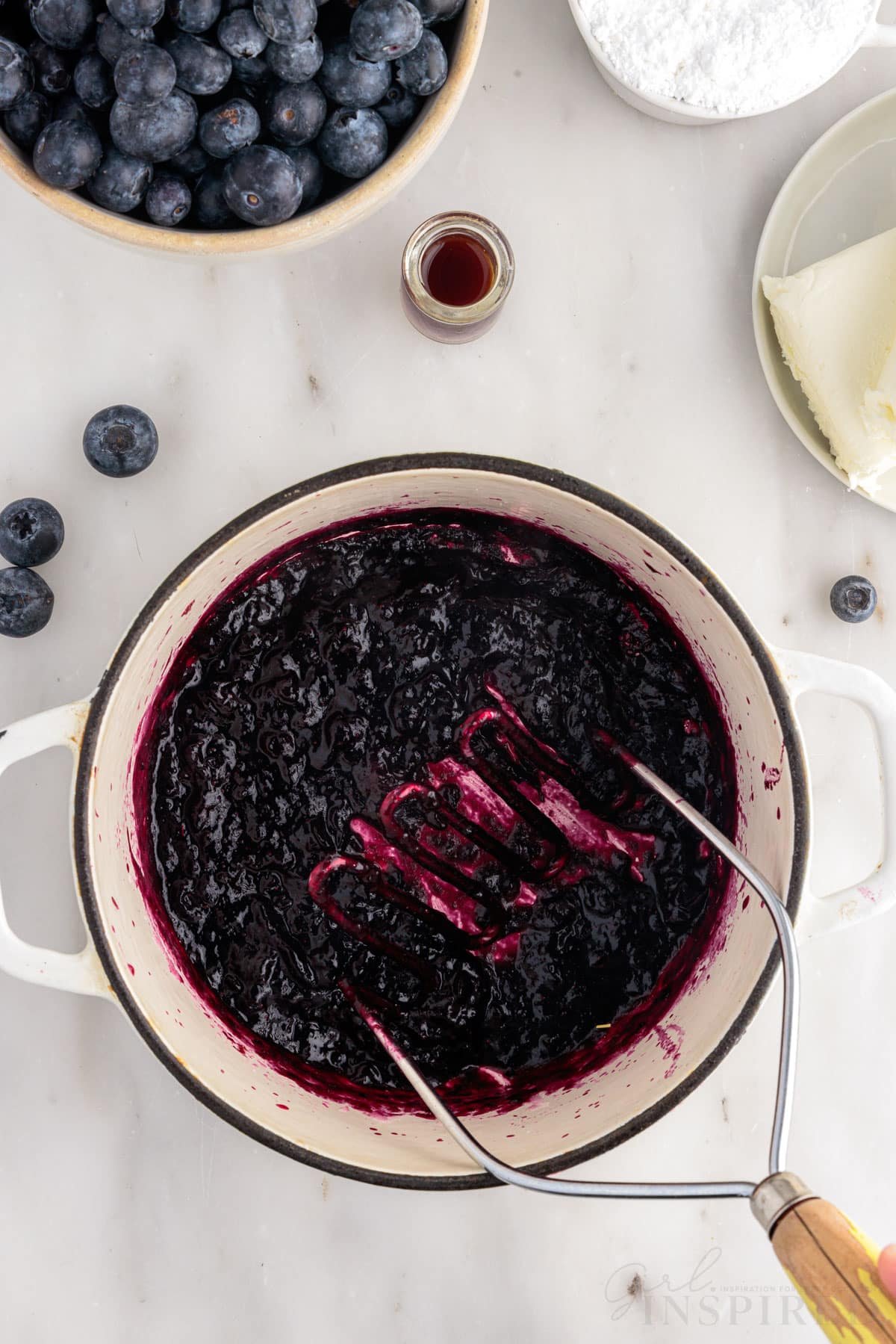 Step 2: Use a potato masher to break down the berries. Cook for 8-10 minutes or until the blueberry sauce has a thick jam-like consistency.
Step 3: Remove the blueberry puree from the heat and cool to room temperature. To cool faster, transfer to a large bowl and refrigerate.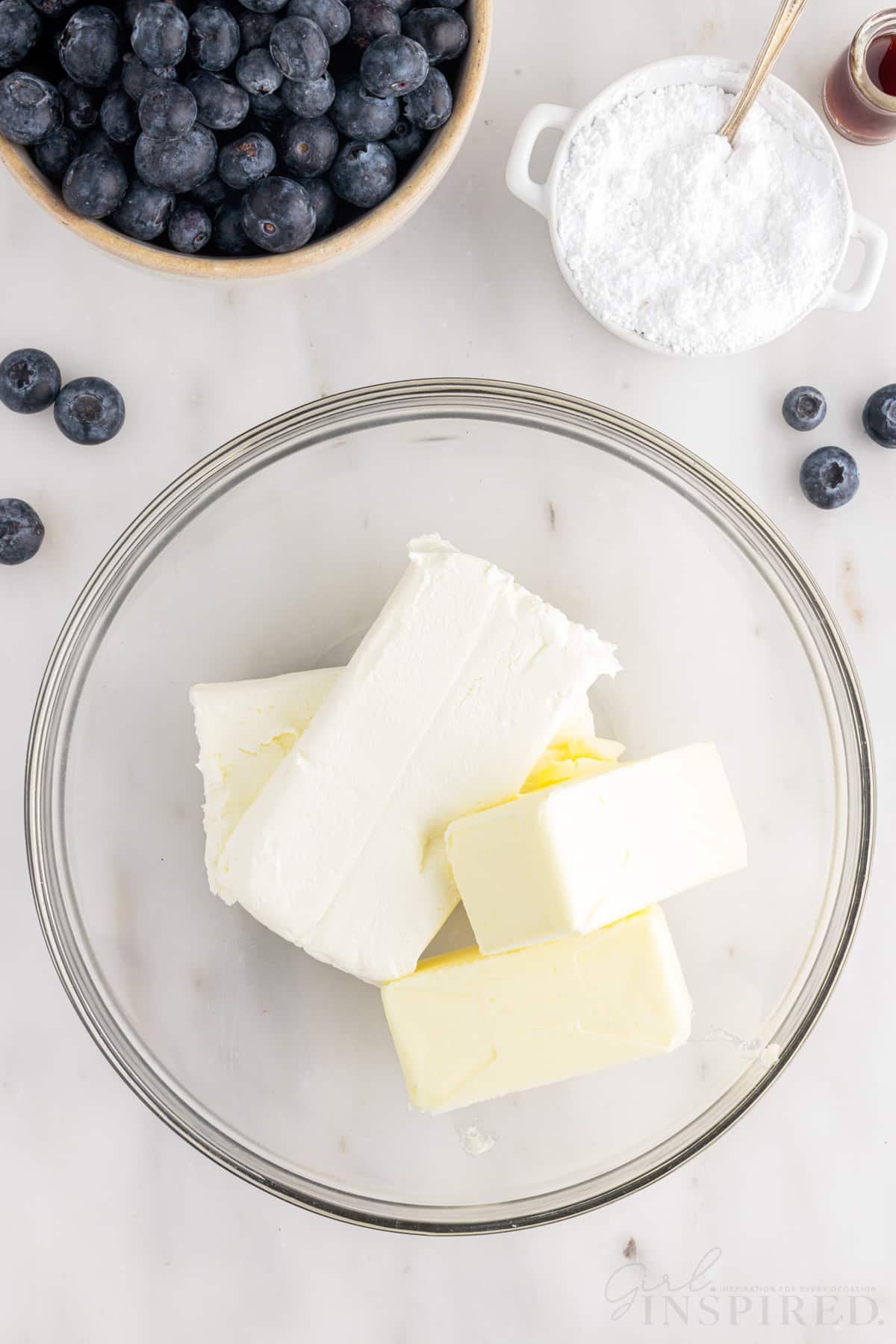 Step 4: Beat the cream cheese and softened butter on medium speed until fluffy in the bowl of a stand mixer.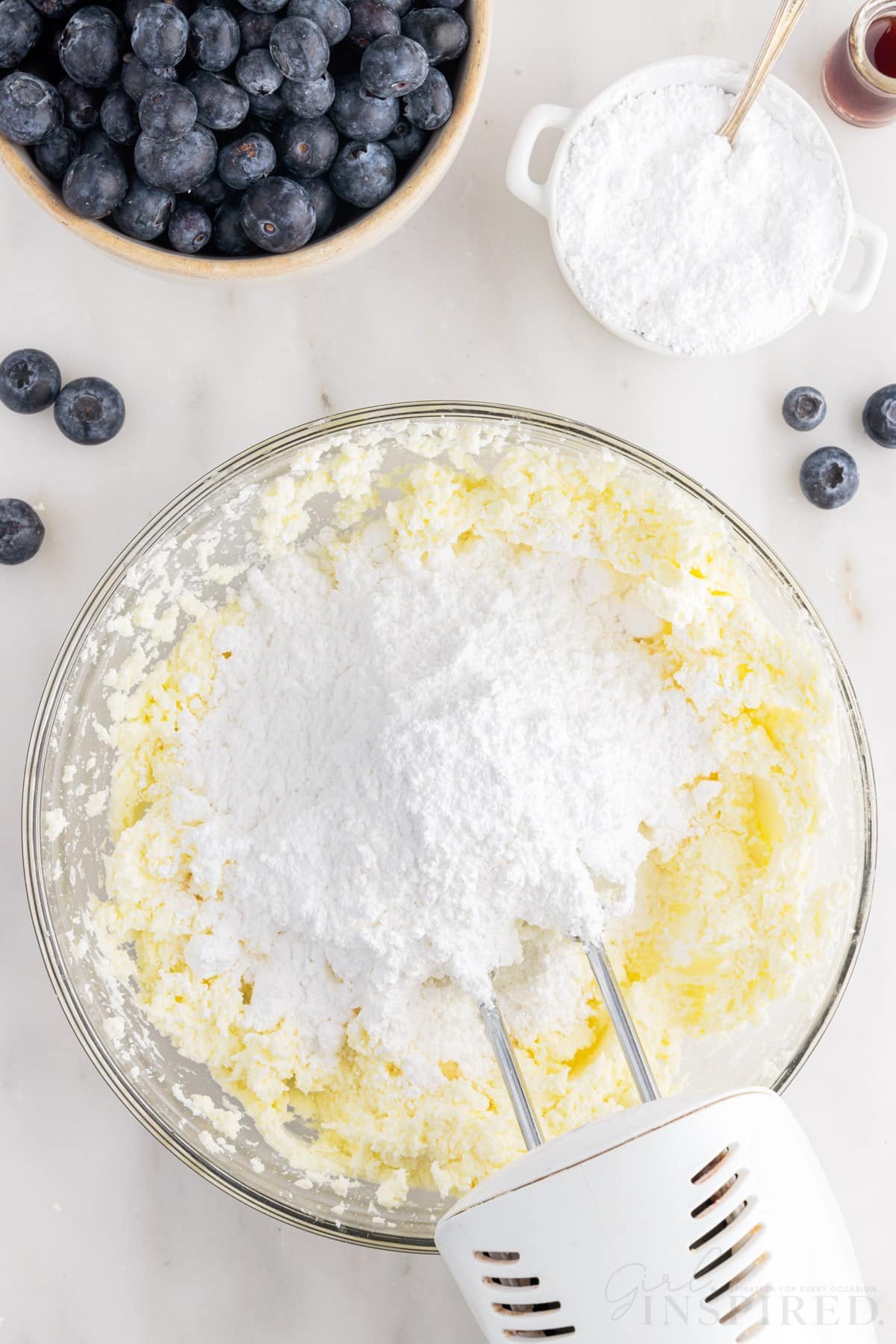 Step 5: Starting on low speed, beat in the powdered sugar (work your way up to medium-high speed) until you have a thick and creamy frosting.
Pro Tip: Soften the butter and cream cheese so your frosting is extra fluffy!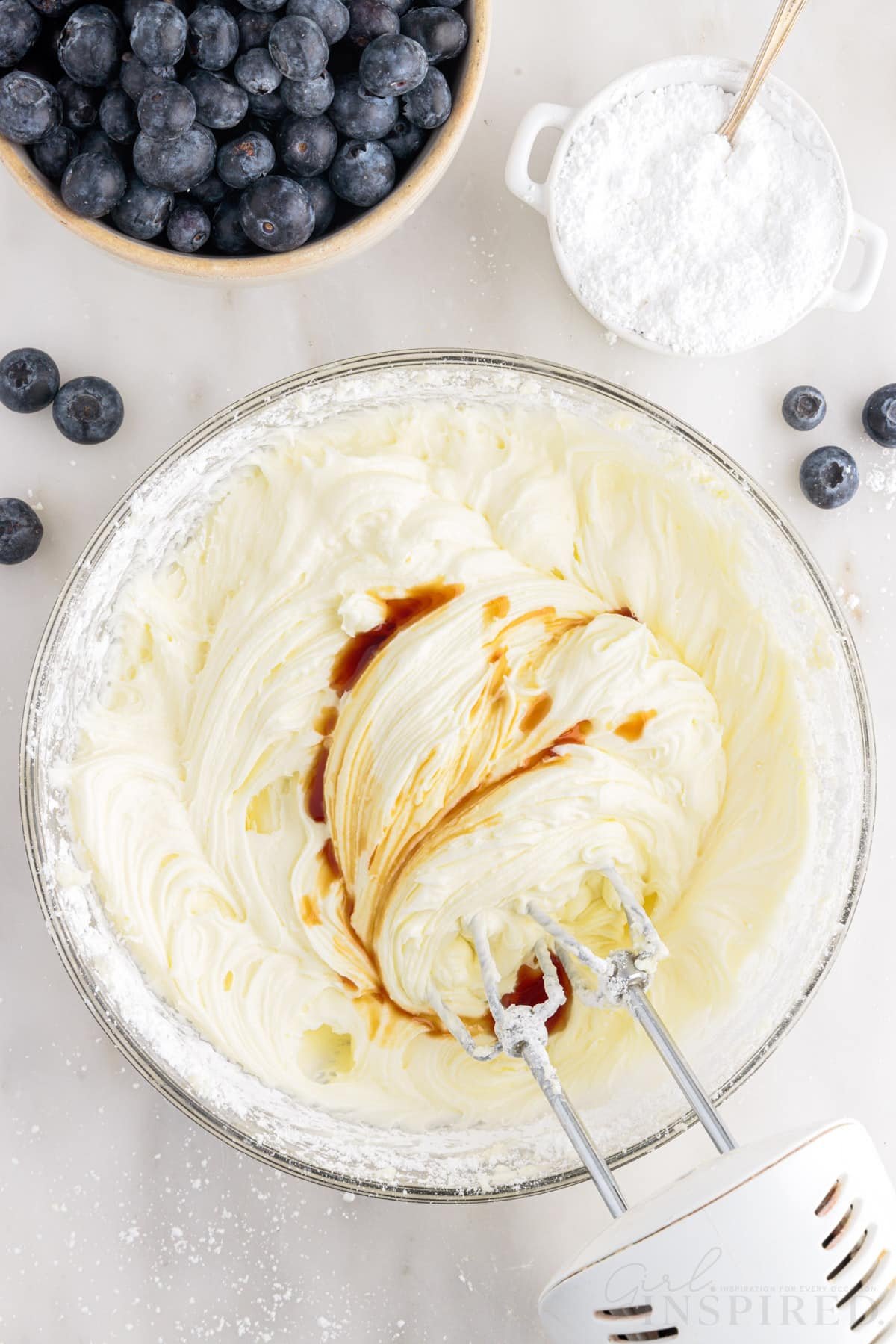 Step 6: Mix in the vanilla extract into the cream cheese mixture.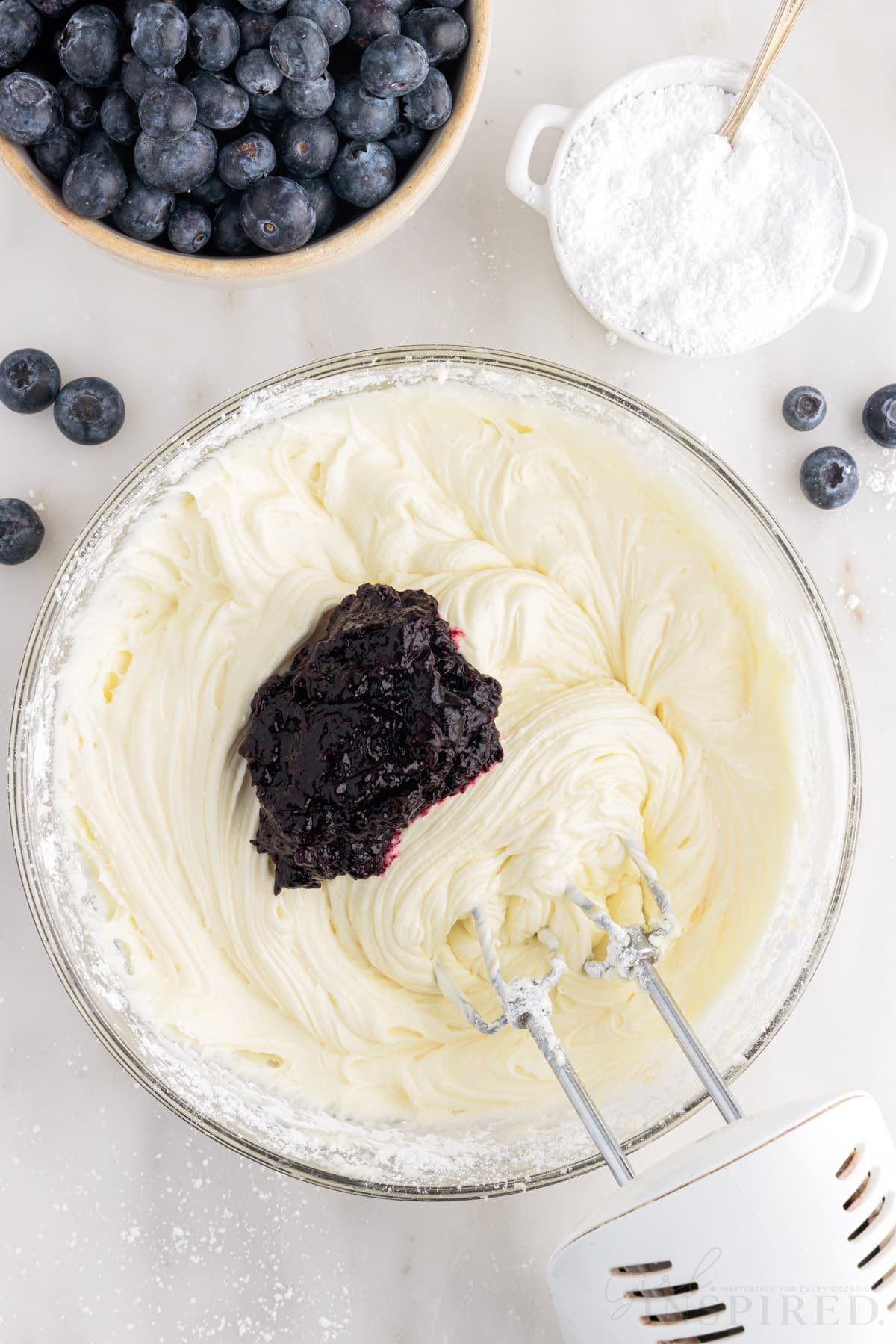 Step 7: Slowly beat in the blueberry reduction.
DECORATE: Transfer to a piping bag and decorate the top of the cupcakes, bundt cake, or layered cake.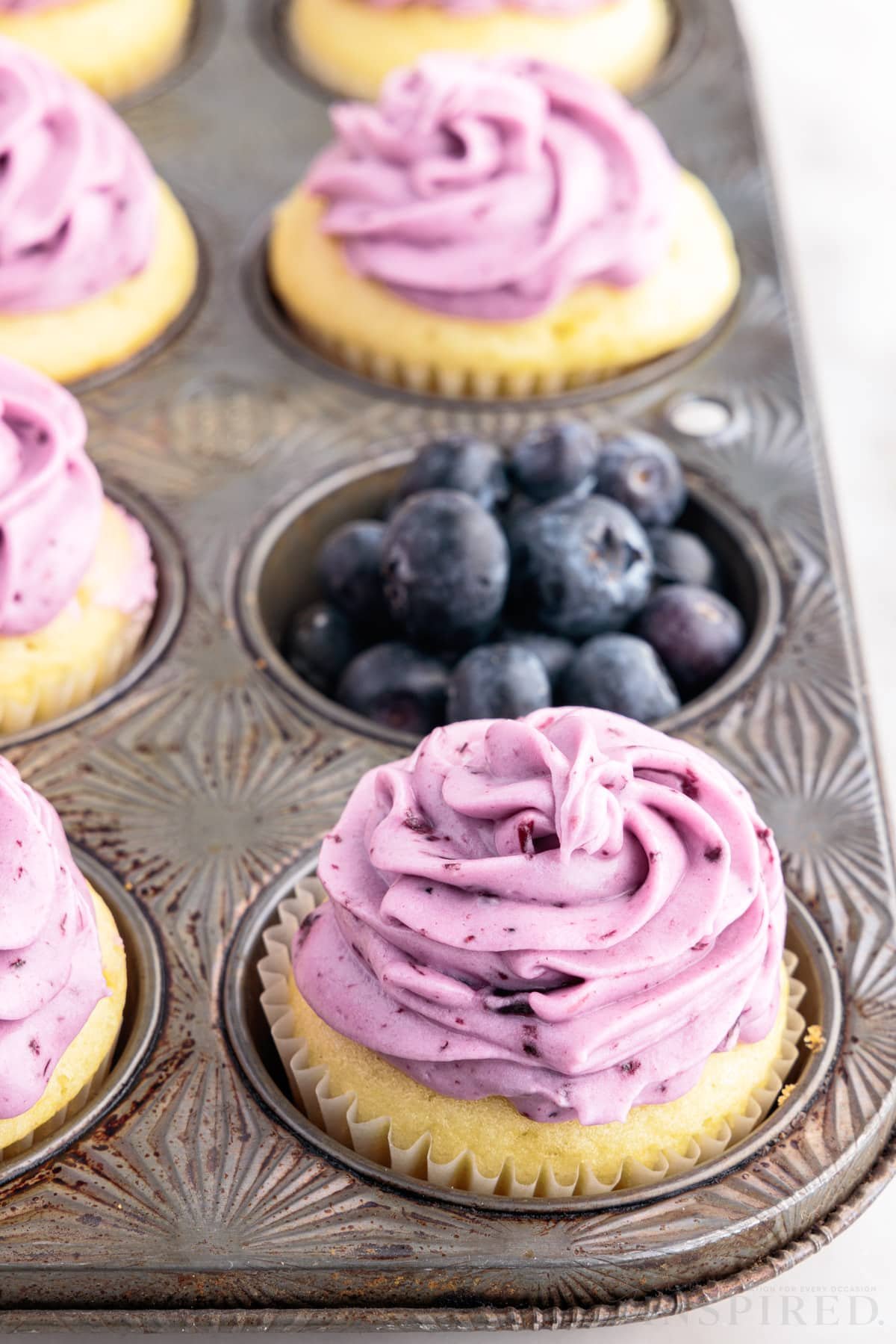 This frosting is a little softer than blueberry buttercream. It pipes with beset with an open 1A or 1M star tip.
Keep frosted cakes and cupcakes chilled until they are ready to serve. If not the icing will melt if it gets too warm.
Cooking down the blueberries gives the punch of flavor and vibrant color, without adding water from the fruit.
Use this frosting to glaze a blueberry pound cake and you won't be sorry!
Fun Fact
Did you know that wild blueberries are smaller than cultivated blueberries, but they have a more intense flavor and a higher concentration of antioxidants?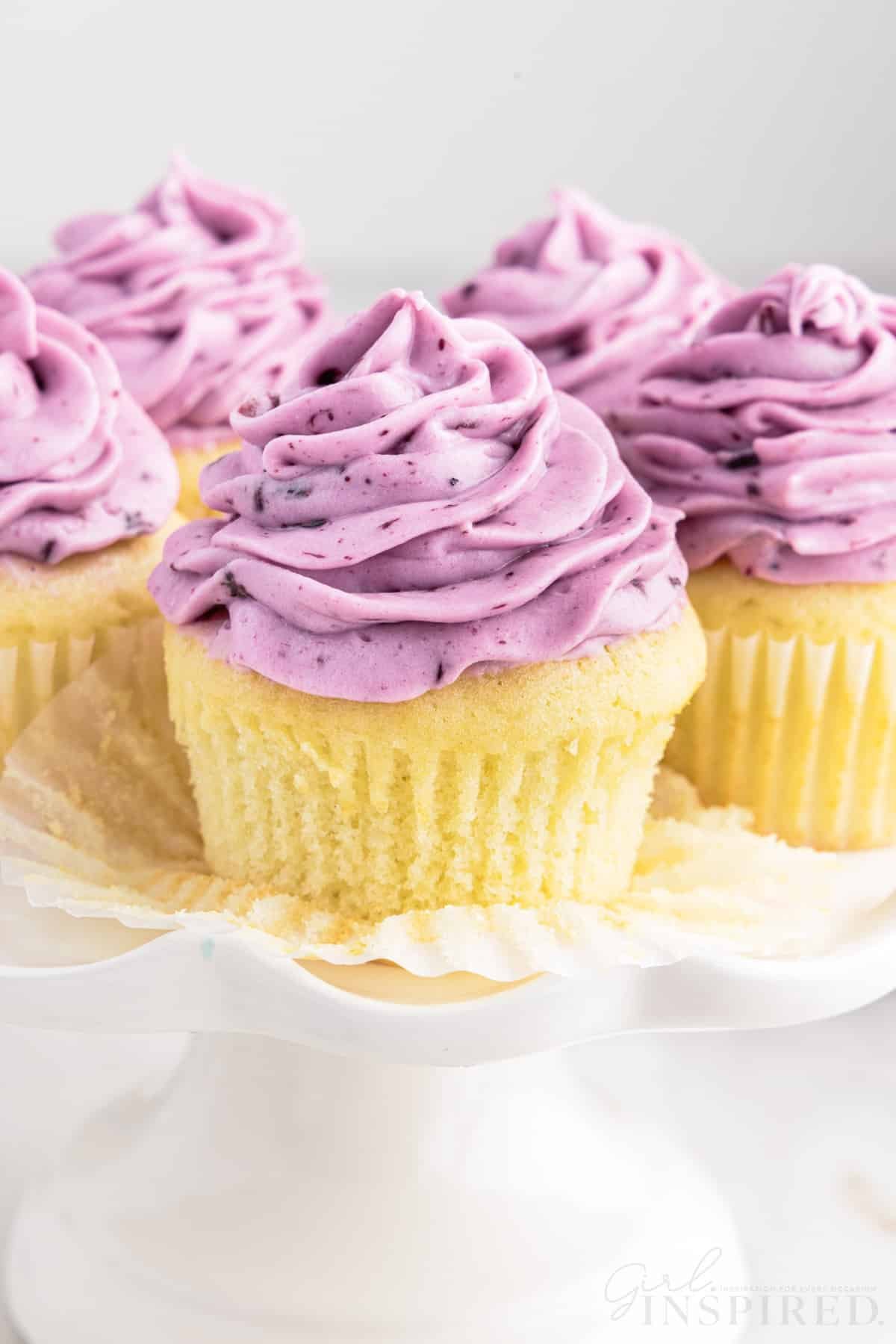 How to store fresh blueberry cream cheese frosting?
Keep in an airtight container for up to 1 week in the refrigerator or 1 month in the freezer. Bring it to room temperature, then fluff it with a hand mixer before piping.
Which is sweeter – buttercream or cream cheese frosting?
In general, buttercream frosting is sweeter than cream cheese frosting. Buttercream frosting is made primarily from butter and powdered sugar, while cream cheese frosting is made from cream cheese, butter, and powdered sugar. While both frostings do contain powdered sugar, the higher proportion of butter in buttercream frosting makes it typically sweeter than cream cheese frosting.
More Amazing Blueberry Desserts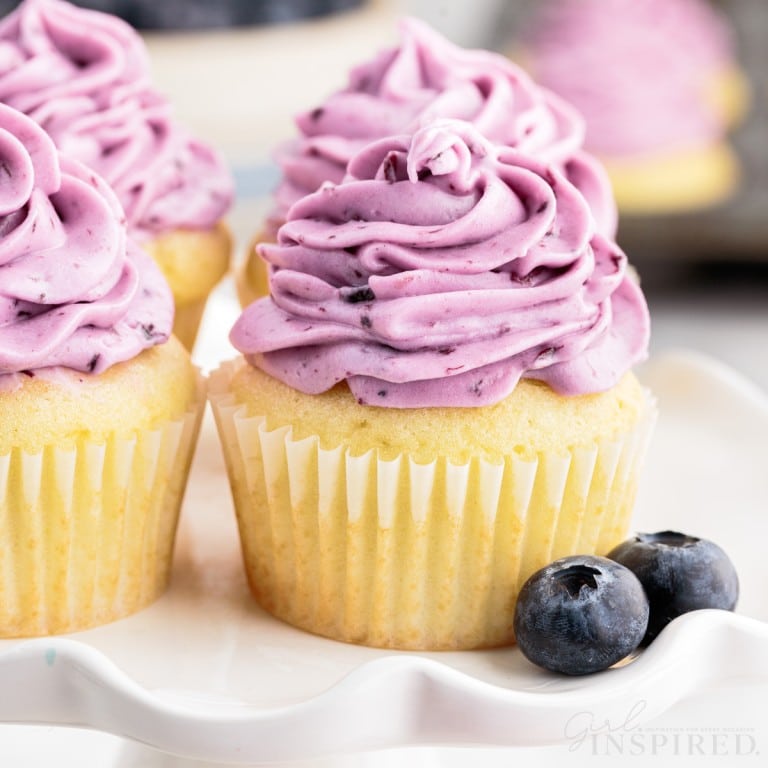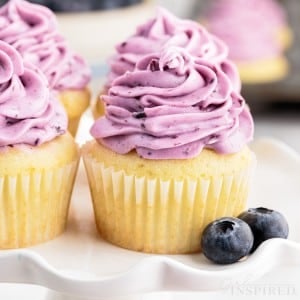 Blueberry Cream Cheese Frosting
This blueberry frosting recipe is silky, sweet, slightly tart and is a must have when making blueberry cupcakes or lemon blueberry cake.
Cups Frosting
Ingredients
1 cup fresh blueberries
2 tablespoons granulated sugar
1 cup salted butter softened
2 8-ounce packages of cream cheese, softened
5 cups powdered sugar
1 teaspoon vanilla extract
Instructions
Blueberry Reduction Instructions:
In a 2-quart saucepan, heat the blueberries and granulated sugar over medium heat.

Use a potato masher to break down the blueberries, cooking for 8-10 minutes until the blueberries have reduced to a thick jam-like paste.

Remove cooked fruit from heat and cool to room temperature. (Transfer mixture to a bowl and refrigerate for faster cooling.)
Frosting Instructions:
Beat together the softened cream cheese and butter until light and fluffy.

Add in vanilla extract and beat until combined.

Gradually beat in the powdered sugar until frosting is thick and fluffy.

Beat in the vanilla extract and then the cooled blueberry reduction.
Notes
Storage: Store in the refrigerator for up to 1 week or freeze for up to 1 month. After storing, bring the frosting to room temperature and then beat it with an electric mixer to use. Notes: This is a softer-set frosting. It will work well for frosting cupcakes or cakes. Basic piping with open tip 1A or star tip 1M is shown here. Detailed piping is more suitable with a stiffer frosting. Keep frosted cakes and cupcakes chilled in the refrigerator to keep the frosting intact. If it gets too warm, it will melt. We cook down the blueberries so that it packs a punch of color and flavor into the frosting without adding a bunch of water from the whole fruit. You can use fresh or frozen blueberries in this recipe. If using frozen, add them directly to the saucepan from the freezer. They will soften enough to start mashing after just a couple of minutes over medium heat.
Nutrition
Calories: 693kcal | Carbohydrates: 107g | Protein: 1g | Fat: 31g | Saturated Fat: 20g | Polyunsaturated Fat: 1g | Monounsaturated Fat: 8g | Trans Fat: 1g | Cholesterol: 82mg | Sodium: 247mg | Potassium: 32mg | Fiber: 1g | Sugar: 104g | Vitamin A: 963IU | Vitamin C: 2mg | Calcium: 12mg | Iron: 0.1mg