This cheeseburger salad recipe is just like a Big Mac except in salad form. It has all of the flavors of a Big Mac but uses simple ingredients that are healthy and even suitable for the low carb diet.
Big Mac salad uses fresh ingredients that taste like an actual Big Mac burger without the sesame seed bun. It's full of fresh vegetables, like juicy tomatoes and fresh lettuce, ground beef, cheddar cheese, and my secret sauce which is the best salad dressing. Not only is it easy to prepare and great for meal prep, but it will satisfy those fast food cravings and is a great option for the whole family.
Who would have thought that a delicious salad could replicate the flavors of your favorite McDonald's burger, and taste like the real thing? It's such an easy recipe to put together, but also healthy, so we keep this one in rotation often. Copycat recipes are becoming a new fave of ours like our Panda Express Chicken and Better Than Olive Garden Alfredo. It's just so satisfying when you recreate a recipe and don't have to leave the house!
Because of the hearty ground beef, we usually do not serve anything else with this salad. However, you could go ahead and prep extra ground beef for Chili Mac, Bacon Cheeseburger Soup, or Mexican Lasagna. We also like using our Instant Pot for batching ground beef on busier weeks.
What do I Need for this Recipe?
🍔 Ingredients:
Salad Ingredients:
ground beef – using lean ground beef will cut down on the fat and there will be less grease to drain.
Salt and black pepper – season to your liking
onion powder – adds a little more flavor without using extra diced onions.
red onion – slice these very thin so they don't overpower the salad. White onions can also be used if that's your preference.
crisp romaine lettuce and iceberg lettuce – using only iceberg will taste more like a McDonald's big mac but using darker leafy greens adds more nutritional value.
dill pickles – don't skip the pickles! They add part of the signature flavor.
cheddar cheese – store-bought cheese can be used, but freshly shredded adds a ton of flavor.
fresh tomatoes – use your favorite. Cherry tomatoes are easy to use and can be tossed in without slicing.
Copycat Big Mac Sauce Ingredients:
mayonnaise and sour cream – give the thick and creamy base of the sauce
ketchup – because you can't have a Big Mac without ketchup!
sweet pickle relish – balances out the tanginess.
mustard – classic yellow mustard is closest to what is on the fast food burger.
onion – be sure to mince it into fine pieces
lemon juice – white vinegar or apple cider vinegar can be substituted
granulated sugar – rounds out the bitterness
paprika and garlic powder – adds more flavor
Optional Garnish:
Sesame seeds, additional sauce
Variations and Substitutions:
Swap the beef – feel free to use a beef alternative or ground turkey in its place. It will still have just about the same Big Mac flavor.
Big Mac Dressing – I love this special sauce and think it makes the salad. If you don't want to make it from scratch, you can use thousand island dressing instead.
Leftover burger patty – if you have leftover cooked beef patties you can chop those instead of cooking the ground beef.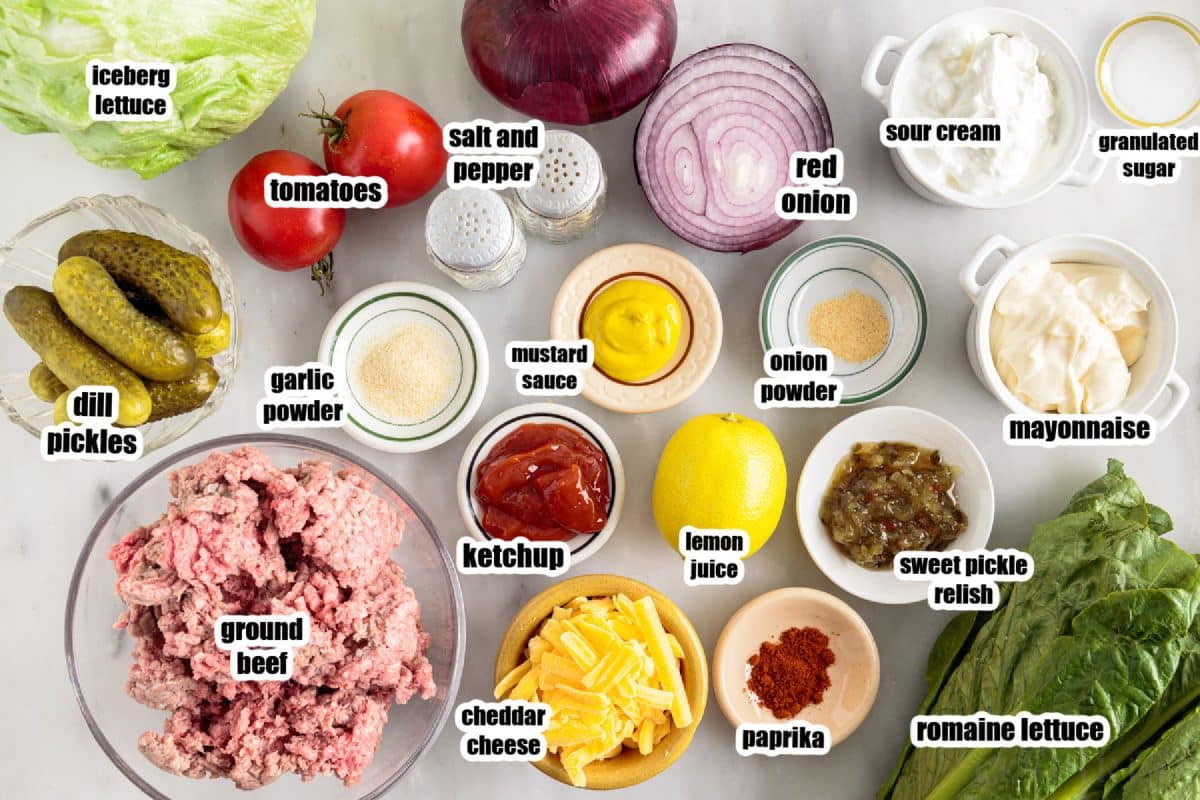 🔪 Instructions:
PREP: Chop all of the veggies.
Step 1: Brown ground beef in a large skillet over medium-high heat. Season with salt, pepper, and onion powder. Drain and set aside.
Step 2: Whisk together the sauce ingredients, cover, and refrigerate.
Step 3: In a large bowl, toss the cooked ground beef, red onion, lettuces, pickles, cheese, and tomatoes together.
Step 4: Drizzle the sauce over the salad and serve.
Pro Tip: You'll want to serve immediately after adding the sauce. You can also serve it on the side.
GARNISH: If desire, sprinkle sesame seeds over the top and serve.
You may have extra dressing leftover. After tossing the salad you can choose to add more or save the leftovers.
Making the sauce ahead of time allows the flavors to marry. But it is just as good when it is whipped up fresh.
Adjust the salad ingredients as desired. We recommend not going overboard on the onions, or else they are a little overpowering.
When prepping this salad store it in a mason jar.
Fun Fact
The Big Mac was almost called "The Aristocrat".
How to store delicious Big Mac salad?
If you know ahead of time you will have leftovers, keep the salad ingredients and the sauce in separate containers. The lettuce will wilt after being tossed in the dressing. The ground beef can be prepped up to 2 days in advance and the veggies can be chopped up to 5 days in advance.
Is Thousand Island dressing the same as Big Mac sauce?
Thousand Island dressing and Big Mac sauce is similar, but not exactly the same. Big Mac sauce typically includes ingredients like sweet pickle relish and mustard, while Thousand Island dressing usually includes ingredients like ketchup and mayonnaise. However, some variations of Thousand Island dressing may include ingredients that are similar to those in Big Mac sauce.
What is Big Mac Salad?
Big Mac salad is a low-carb version of the popular McDonald's Big Mac burger, transformed into a salad. It consists of chopped lettuce, tomatoes, onions, pickles, shredded cheese, ground beef, and a special sauce made with mayonnaise, ketchup, mustard, and relish, which is similar to the sauce used in the Big Mac burger.

More Delicious Salad Recipes
Big Mac Salad
This cheeseburger salad recipe is just like a Big Mac except in salad form. It has all of the flavors of a Big Mac but uses simple ingredients that are healthy and even suitable for the low carb diet.
Ingredients
Salad Ingredients:
1 pound ground beef thawed
Salt and pepper to taste
½ teaspoon onion powder
1 cup thinly sliced red onion
1 head romaine lettuce chopped
½ head iceberg lettuce chopped
1 cup chopped or sliced dill pickles
1 cup thick-cut grated cheddar cheese
1 cup diced tomatoes
Big Mac Sauce Ingredients:
½ cup mayonnaise
½ cup sour cream
3 tablespoons ketchup
⅛ cup sweet pickle relish
2 teaspoons classic yellow mustard
1 tablespoon finely minced onion
2 teaspoons fresh lemon juice white vinegar or apple cider vinegar can be substituted
1 teaspoons granulated sugar
½ teaspoon paprika
¼ teaspoon garlic powder
1 tablespoon finely minced red onion
Instructions
Crumble ground beef into a skillet and sprinkle with salt, pepper, and onion powder. Brown over medium heat until no pink remains. Drain excess fat and set aside to cool.

In a small bowl, whisk together Big Mac sauce ingredients until fully combined. Cover and refrigerate until ready to toss with salad.

In a large salad bowl, mix together cooled ground beef, red onion, lettuces, pickles, cheese, and tomatoes.

Drizzle Big Mac sauce over the salad and toss everything to combine.

Serve immediately.
Notes
Storage: Store this salad in the refrigerator in an airtight container for up to 3 days. Lettuce will wilt after being tossed with the dressing. The ground beef can be cooked up to 2 days ahead of time. The vegetables can be chopped a day ahead of time and the sauce can be prepared up to 5 days in advance. Notes:
You may have extra Big Mac sauce. I would recommend adding half, tossing the salad, and then gauging how much more sauce to add. The sauce will develop its flavors overnight and can be made in advance. The sauce is quite tasty as soon as it is mixed though and can be used right away. The quantities of the salad ingredients can be adjusted to taste. I like thinly sliced red onion so that the flavor isn't overpowering. The tomatoes add some nice sweet balance to the other traditional Big Mac ingredients.
Nutrition
Calories: 418kcal | Carbohydrates: 13g | Protein: 19g | Fat: 33g | Saturated Fat: 13g | Polyunsaturated Fat: 5g | Monounsaturated Fat: 11g | Trans Fat: 1g | Cholesterol: 88mg | Sodium: 570mg | Potassium: 496mg | Fiber: 2g | Sugar: 8g | Vitamin A: 1152IU | Vitamin C: 10mg | Calcium: 212mg | Iron: 2mg