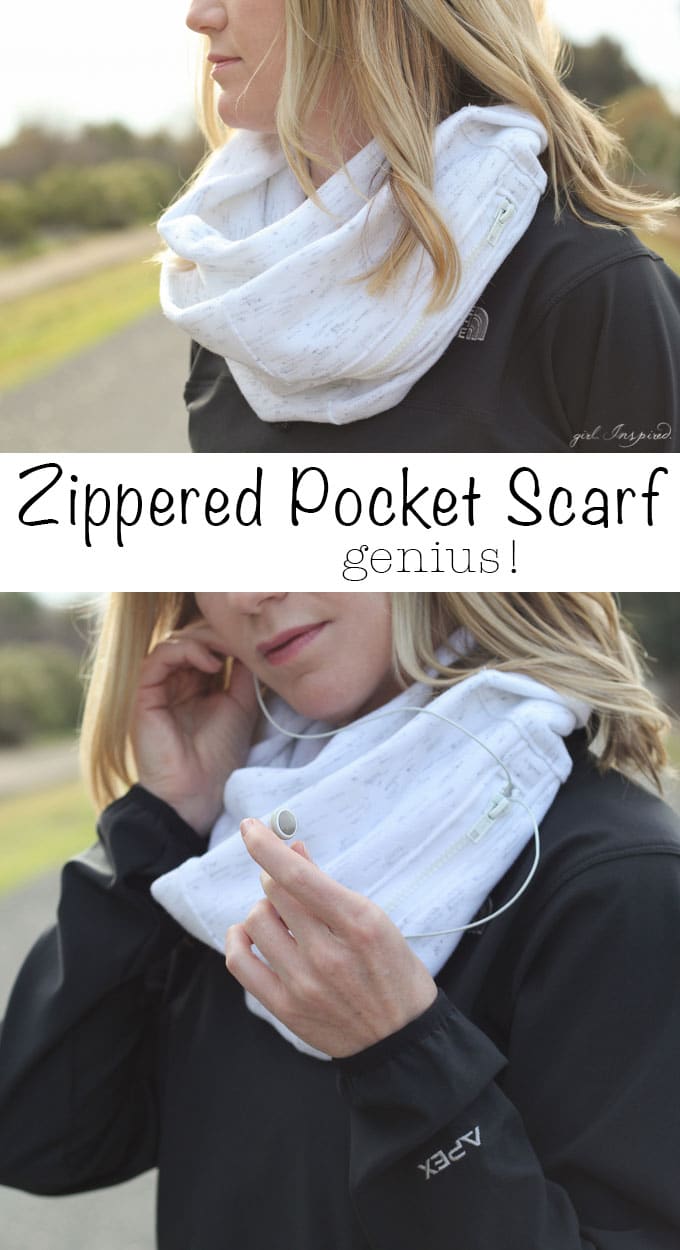 You guys!!! Are you looking for a really quick, stylish sewing project for someone who is always on the go? This Zippered Pocket Scarf is SO clever and just perfect for stashing a phone, ID, and house key! So great for walks, jogging, even a day trip where you want your hands free, don't you think? I found this sewing pattern – the Hipster Pocket Scarf – while I was perusing the new sewing book: On the Go Bags—15 Handmade Purses, Totes & Organizers by Lindsay Conner and Janelle MacKay (Stash Books)(affiliate).
This infinity style scarf was a breeze to sew and is labeled "beginner." Anyone can make one and it doesn't take long. I reduced the length so that it wraps around only twice instead of three times because I used a sweatshirt fleece and didn't need it too bulky. It would also be super cute in a lightweight knit for spring or fall. The zippered pocket is super handy to keep your phone and house key tucked away safe when you head out for a walk. I like to listen to music or podcasts while I'm walking and the headphones pop out the end of the zipper easily. It's awesome!! My beautiful cousin modeled the scarf for me and she's pretty excited to use it for running as well.
In addition to being the perfect workout accessory, I think you could wear this scarf a number of other places where you want your hands free and just need some keys and your credit card – Christmas tree lot? Zoo? Disneyland? It's like a totally stylish alternative to the fanny pack, am I right?
Alright, on to a few more details about On the Go Bags—15 Handmade Purses, Totes & Organizers. This book has all kinds of sewing patterns for a variety of bags: a car organizer, purse pocket/accesssory insert, tablet carrier, travel toiletry bag, men's bag, grocery cart organizer, the list continues on and on. The book is also broken down into beginner, intermediate, and advanced projects so that you can gauge your project accordingly.