Feeding young children can be a tricky thing. Just when you think you've found their ***favorite*** food, they hate it. Just when you have them convinced that healthy foods are delicious, a classmate turns their nose up and your kid won't eat it any longer. My girls are hungry seemingly every second of the day and it's challenging to come up with enough variety to satisfy them all the time. I don't make separate meals for mealtime – they all get the same thing. For dinner, they eat what we eat. The only exception is when Graham and I want something spicy (or Thai takeout!!), then, I'll make them a separate toned down version. I spent about a year on a really restrictive diet (no grains, no sugar, no lactose) and one of the things that I started eating daily was smoothies. The kids started drinking smoothies, too, and although I don't make them every day anymore, when I do make them, I'm always making a batch to feed more than one!
Today I'm sharing my go-to recipe that everyone loves and it's super healthy (the recipe is a single serving – double, triple, quadruple as you wish!!)
Smoothies Kids Love
1 very ripe banana
½ C. plain yogurt (make your own yogurt for lactose-free)
1 tsp. honey (more if you want it sweeter)
1-2 tsp. coconut oil
½-1 C. ice cubes
Blend ingredients in a blender until smooth – drink up!!
Variations include:
add ½ C. ripe strawberries for a strawberry-banana version (this is my girls' favorite).
use honey vanilla greek yogurt in place of the yogurt and honey (slightly less healthy, but delicious)
add 1 Tbs. peanut butter or almond butter
For a special treat, add a little whipped cream and sprinkles on top and call it dessert!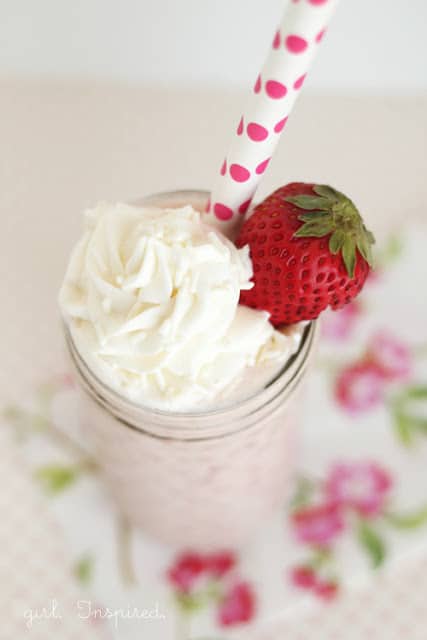 Note: the coconut oil has a lot of health benefits, but it solidifies in the cold smoothie – I don't mind it, but leave it out if you do!! Or blend it with the other ingredients before adding the ice.
I know there's a whole world of smoothies out there, and lots of ways to add green veggies to your diet this way – my girls see green and won't drink it, but we keep trying – who knows when their preferences will change again!
What's your favorite smoothie combination??