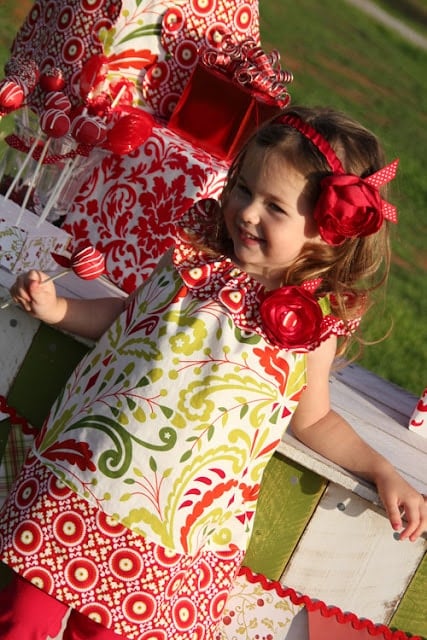 I have an excuse to share more pictures of my silly, beautiful girls. The
Christmas dress
in the
shop
this year. It's darling. I loved this fabric so much I had to find a reason to use it some more.
Addie was having a blast modeling. In fact, all three girls had a blast throughout. Perhaps it was the progressive delivery of treats along the way…milk with fun straws, cake pops, lollipops, little wrapped presents… Anyway, here are some shots of the new dress.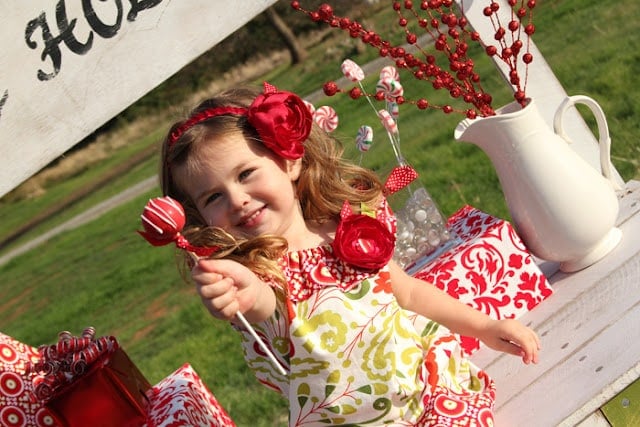 A few of you are asking about the fabric line. It is Kumari Holiday by Dena for Free Spirit. A quick etsy search will turn up plenty of options for you. I found mine at a local fabric shop.
I sat down in front of the TV one evening and made a pile of brooches/hair clips and Addie's headband. So fun! There is a brooch included with the Christmas dress; I will be listing the brooch/hair clip and the headband separately as well. (You can find my tutorial for last year's brooch
here
.) Olivia and Addie really got into having their hair styled special; hot rollers and hairspray can be fun. Unless your name was Grace on this day; then, not so much.
Let's conclude this post with the most snuggly adorable picture of Olivia and Addie, shall we?