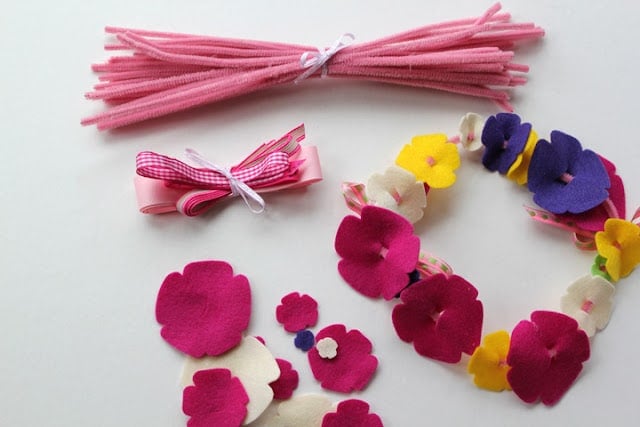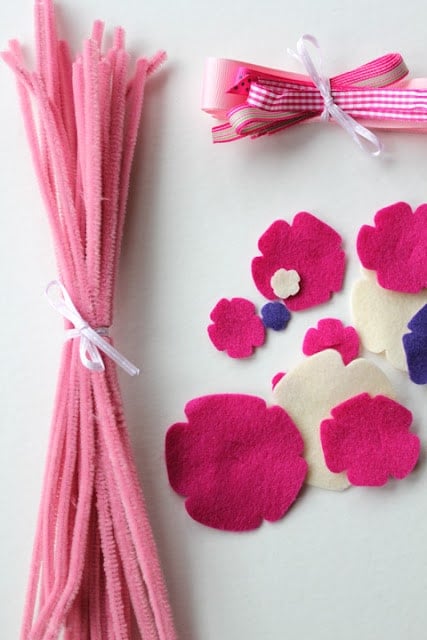 While waiting at the cut counter one afternoon, I peeked over the clerks' shoulders to see which sewing book they were oohing and ahhing over. Couldn't catch the book title, but I did see some super cute tiaras made from flowers and pipe cleaners. So, I packaged up a little felt flower tiara kit for Olivia for Christmas.
I pre-cut a bazillion flowers from felt using my Sizzix and this die. You could certainly cut the flowers by hand, but I'm not so good at the art of freehand.
Then I made two parallel slits in the center of each flower and tucked them all in a clear little bag with a tie of ribbon at the top. Another bow of ribbon around a stack of pipe cleaners and a cute little packet of folded ribbon completed the kit. So Simple! I packaged the tiara kit with this flower garden board game by eeBoo.
Liv pulled out the kit on a rainy Valentine's Day and made her daddy the prettiest tiara! And he loved it so much he was still wearing it long after the girls were sound asleep in bed. I think you should put together a little kit for your girls, too! Their daddies can thank the ladies at the cut counter…and the unknown author of that book.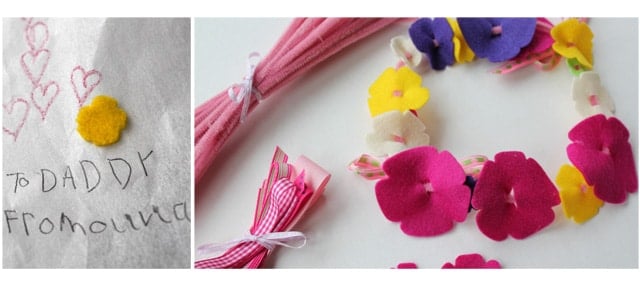 We're hoping for a rare layer of snow around here…crossing my fingers! I know many of you actually live day-to-day throughout the winter with snow, but for us it would be a real treat!! Unless we lose power, 'cause that wouldn't be nearly as much fun.