A few weeks ago, I had the privilege of attending the Sweet-Up 2014 Event at Wilton Enterprises. I wish you all could have been there to ogle over the walls of cakes and hear about the latest products and trends in the cake decorating industry! I have been trying to find the words to tell you all about the day, but it was such a jam-packed whirlwind of inspiration, I'll try by best to do it justice! Pictures tell so much, so I have plenty of those for you and I will definitely be experimenting with, and sharing some cool new products as the weeks go on.
My mom and her friend took a cake decorating class when I was really young, so I grew up in a house that appreciated a fancy touch on birthday cakes! I still remember the infamous "Barbie" cake for my 6th?ish birthday (here is a plethora of Barbie cake images to give you an idea) – I kept the decorated shell of that thing on my shelf in my room for years…perhaps the beginning of my cake supply hoarding tendencies?? Anyhow, Wilton products are close to my heart and if you've been around Girl. Inspired. at all, you know that cake decorating is a huge passion of mine. Can you imagine how excited I was when my friends at Jo-Ann Fabric and Craft Stores invited me to go to this awesome event at Wilton Headquarters?
So, I flew out to Chicago, and after a warm, cookie-topped welcome, I was headed to the Wilton School of Cake Decorating and Confectionary Arts for some touring and instruction. Of course, I fell behind the group trying to take pictures of all the amazing cakes that prior students had left behind. Serious talent spilling out of that school!
We had the best time learning techniques for working with fondant and buttercream in the classroom. The director, Sandy Folsom, so graciously shared with us some basic instructions. If I lived anywhere near Chicago, I would so love to take some of her classes and just soak her up. She is so knowledgeable and patient, and even though my skills are seriously lacking, the staff was incredibly encouraging and helpful. I wish I could have stayed there all day (or all week!!).
But, it was on to "friendly competition" time. A surprise competition would typically send my anxiety levels through the roof, but it turned out that this really was a fun competition. The 16 or 17 guests worked in groups of four to decorate prepped cakes with any number of tools and pre-made flowers. Courtney, Mandy, Jill, and I worked together and it was just really, really fun trying to pull off a cake in 30/40 minutes. I think we did superb! The fun Wilton staff awarded all the groups with plaques later that night and crowned us with "Best Use of Varied Techniques" award – hahaha! Love it!! We finished the morning off with some good old-fashioned shopping at the Wilton store/baker's paradise!! I'll definitely show you some of my new goodies soon!
The other half of the day was spent at Wilton Headquarters – friends, it was SO cool to see behind the scenes of such a huge, inspiring company!! The afternoon began with the Sweet-Up live presentation. CMO Eric Erwin and Senior Test Kitchen Manager/Craftsy Instructor/Pastry Chef/Cupcake Wars Champion Beth Somers introduced the latest Wilton products and the five "Mega Trends" in cake decorating. You want to know the mega trends, right? They are: Buttercream, Less is More: Decorating Simplified (I love simple!!) Tall Cakes (yes!), Small Treats (think cupcakes, petit fours), and Fondant (Wilton has a brand new fondant hitting the shelves now!) There was so much information and visual inspiration in the presentation. There were live and video demonstrations mixed in to the presentation, so if you're looking for some video how-to, this is a great place to start for some inspiration and instruction.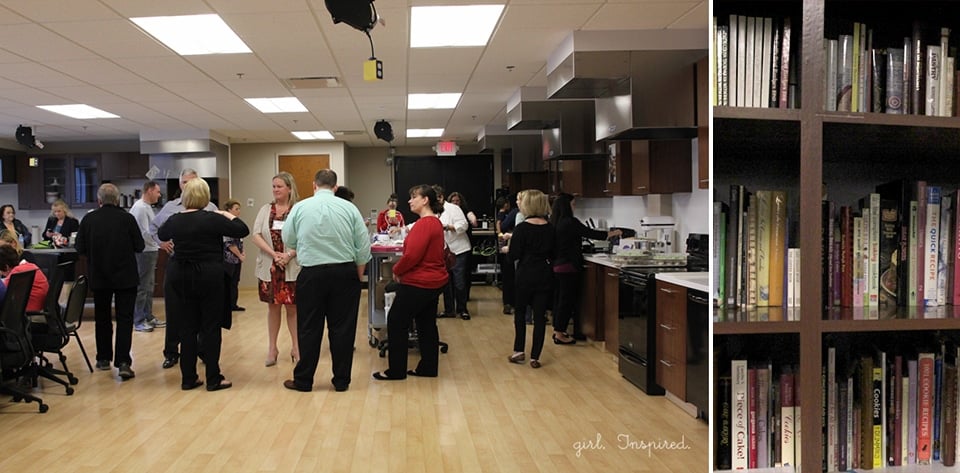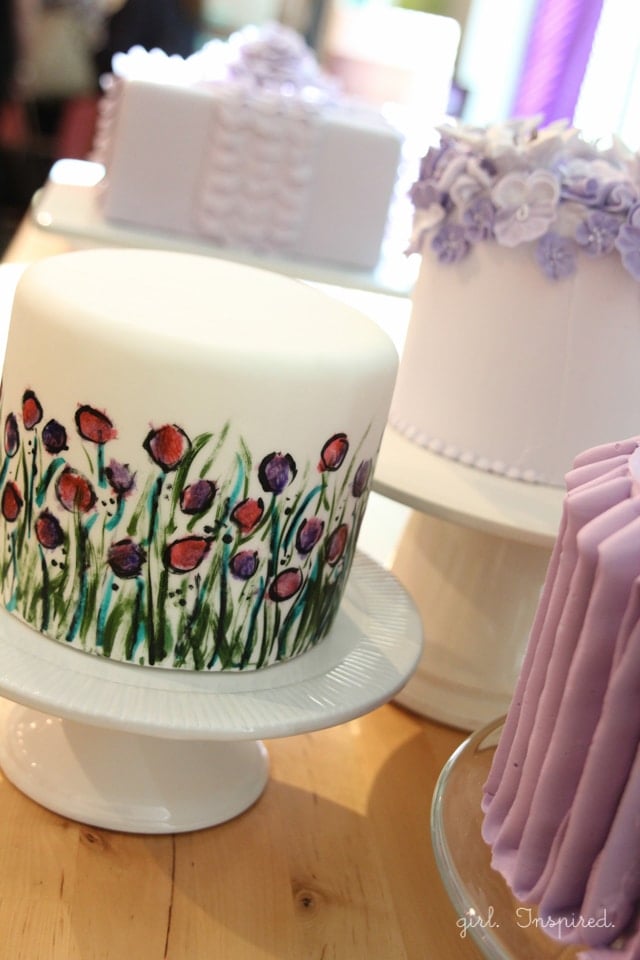 My head was spinning with inspiration from the latest trends. The rest of the afternoon was a mix of touring the test kitchen, the workroom, the photography studio, and the offices, along with some hands-on mini-classes to try out the new products. I found it super cool to see the offices with your typical file cabinets, and cubicles, except the hallways were lined with shelves of cakes.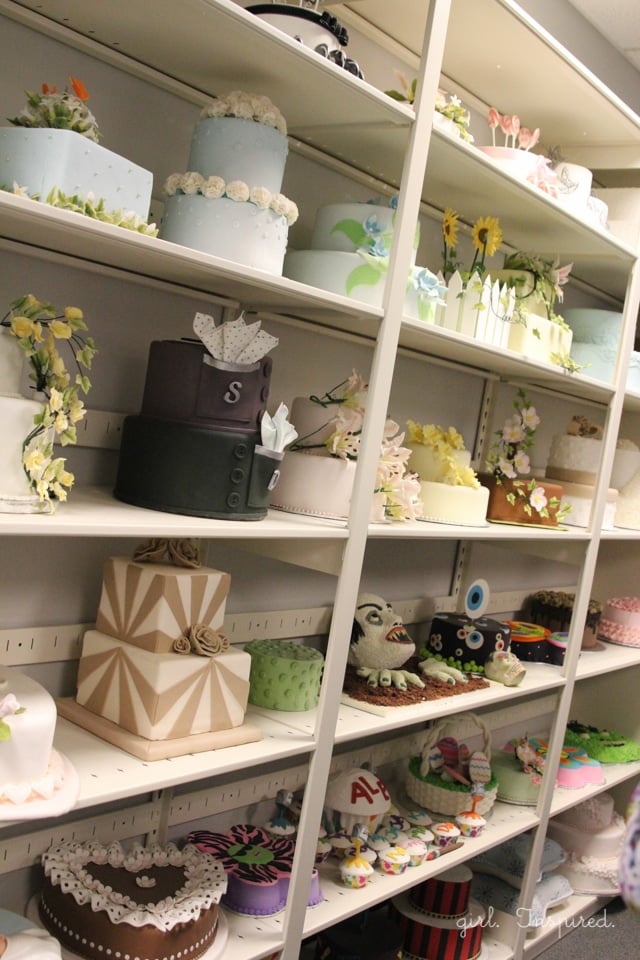 Cakes everywhere!! The amazing decorators in the workroom were busy perfecting all kinds of Halloween treats – how fun would it be if your job was to play with cakes and treats all day (no photos allowed in there, sorry)?
The photo studio….what I would give to just spend a day watching the professionals work in there!! The test kitchen was hosting one of the mini classes, so that was a quick walk through, and I would've loved to spend some extra time in there!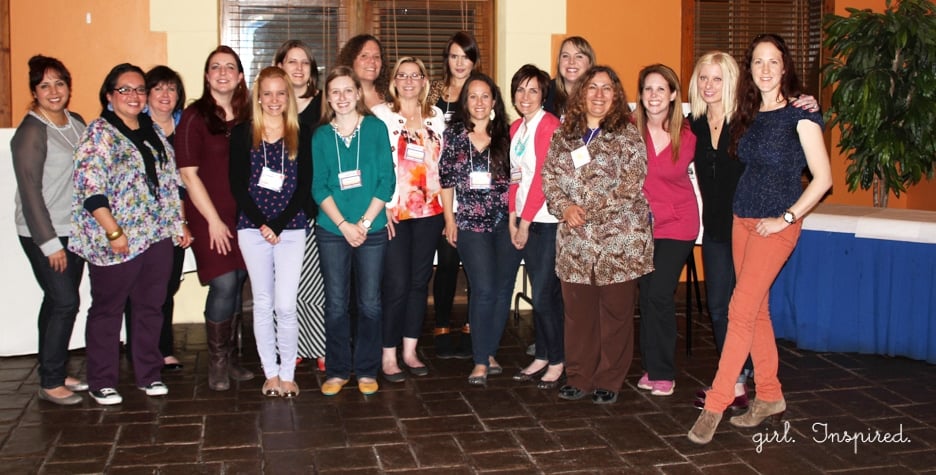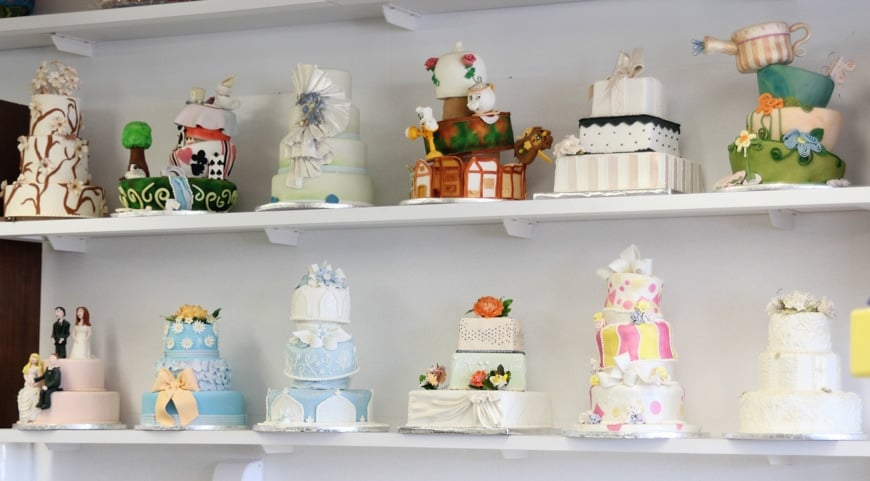 The Wilton Sweet-Up 2014 event was truly amazing. If you're like me, and don't live anywhere near Chicago to access the Wilton School of Cake Decorating, fret not, my friends! You can find nearly all of the Wilton products AND take cake decorating classes at your local Jo-Ann! Did you know that? I just might have to sign up this summer and get some real skills under my belt – anyone want to do it with me? The Wilton website is also jam-packed with inspiring photos and techniques, ideas for on-trend sweets like the 2014 Wilton Cake of the Year, and a great video on the history of the Wilton brand (really interesting!) Thank you, thank you, thank you Wilton and Jo-Ann for letting me be part of this awesome event!!