I really enjoy clean, fresh decor heading into the new year. I'm a homebody and the cold weather definitely provides even more justification to stay tucked in at home. Our house lacks some of the natural light that I adore, particularly in the winter, so I'm finding that decorating with whites and metallics adds warmth and brightness to the rooms. After knitting a little scarf for one of the girls, I had a fluff of leftover yarn and so I sat down with the kiddos to make some fun yarn pom poms. Do you make these? They're easy and look cute – plus the cats like them, so be advised.
Pom poms and garlands are a popular decor item right now and they're so simple to make. For this particular pom garland, I used this fluffy, creamy Angel Hair yarn in white. You can use any yarn, really, but the thicker and/or fuzzy yarns will make a more plush pom pom. (This yarn also made an incredible little scarf – I'll try to share that soon!)
To make the pom pom, simply wrap the yarn around and around your fingers, as shown. For a larger ball, I wrapped the yarn 50 times around three fingers. You can wrap more times or fewer and/or alter the number of fingers that you're wrapping around to get different sizes.
Once you've wrapped, cut a 10″ length of yarn and wrap it horizontally around the whole wrapped packet of yarn. If you have wrapped around three fingers, adjusting to two fingers now will give you a little working space to get the yarn tie wrapped around and spaced in the center.
Pull the yarn tie tightly and make a knot. This tie is what holds the pom pom together, so the tighter the knot, the better.
Carefully slide your scissors inside the loops on the top half of the wrapped yarn and snip. Then, snip through the loops on the other half.
Fluff the pom pom and trim any yarn pieces that stick out unevenly.
Repeat to make a pile of fluffy little snowballs.
To turn the pom poms into a garland, take a length of yarn and thread the end through a yarn needle. Gently weave the needle through the center of each pom pom and space to your liking along the string of yarn!
Doesn't the garland look cheery accompanying this little hot cocoa bar? I used these perfectly sized apothecary jars for my hot cocoa mix and mini marshmallows.
Dip marshmallows, pretzels, cookies, or any snack in candy melts. Oreo balls and lemon blueberry bites are some of our favorites. My family goes crazy for candy dipped stuff!
And there you have it! Sparkling decor for a party or every day!
You might also enjoy: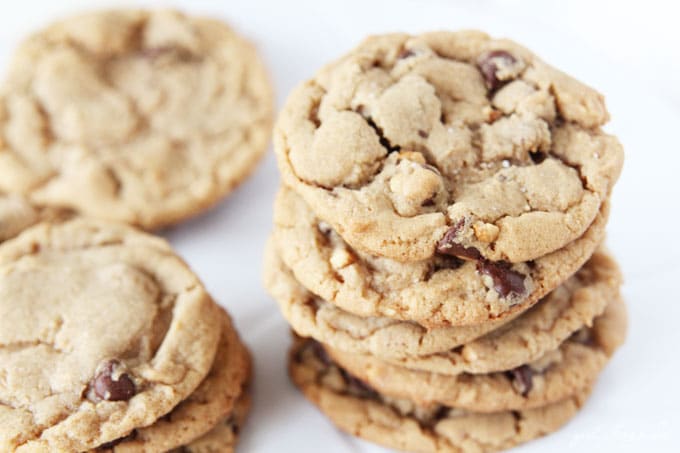 This recipe for the best peanut butter chocolate chip cookies might be just what you need!
Or find the free template and tutorial to make this darling heart pillow!