Friends!!! It has been one of my goals this year to do more sewing for myself. I think I've done a pretty decent job. I've made more than a few clothes that look professional enough to wear in public proudly. Last week, I sewed myself a leather jacket. With Real, Scrumptious leather! I am elated – it's probably my number one most proud garment I've ever made. Of course, I was helped along immensely by the McCartney Jacket Pattern by Shwin & Shwin, which has just been released in the latest collection, 8 Days a Week, by Pattern Anthology. Today, I'm sharing some thoughts on the pattern and working with leather – I hope to inspire you to push yourself beyond your comfort zone and sew something new and awesome!!
The McCartney Jacket Pattern was easy to follow. I made a muslin before cutting into the precious leather, to figure out how the whole thing would fit together, and get an idea on sizing. I discovered that I'd need to shorten the jacket by about 4″ – which makes sense, since it's for an average 5'5″ lady and I'm 5'1″. Shortening the jacket was simple using the pointers in the pattern. I also had to shorten the sleeves, which took a little more care as I also needed to taper them in rather than just chop them a couple inches shorter. The jacket pattern includes puff sleeves, which I did use on my muslin and are super cute, but I thought they'd be much too bulky with the leather, so I used the alternate regular sleeve pattern pieces. I topstitched along the pieced sleeve seams, but actually pressed those seams open and topstitched through just one seam allowance – my machine couldn't handle three layers of leather at once. I used my walking foot to sew most of the jacket, with the exception of the zipper foot on the zipper parts. It worked pretty well, though I really had to trim down the seam allowances to reduce the bulk when I was joining the pattern parts together. Sewing through two layers of leather was no problem, but sewing through three layers was nearly impossible. I got the best results with a heavier weight thread in the needle (leather needle!!) and a regular weight thread in the bobbin. I also used a longer stitch length.
The welt pockets were challenging with the leather and I may go back in and work on them a little more to get them looking crisp. I lined them with ribbed knit to cut down on the bulk in the front of the jacket. I lined the rest of the jacket with some faux Sherpa I found disguised as a blanket at Costco. It's so soft and I love the bundled up feel and look of the Sherpa with the leather. When the weather cools down some, I'll be able to tell if it's going to keep me warm or just be way too hot. I also widened/made the collar 1″ taller because I wanted it to really stand up around my neck. It was easy to do. I didn't topstitch around the edge of the collar because I was concerned that my machine would have trouble with the bulk in the seams and once I punch the needle through the leather, there's no turning back. Instead, I trimmed as much bulk out of the seams as I could and hammered the seams around the collar and along the zipper.
The amazing leather for this project was provided by the Leather Hide Store. They were absolutely awesome to work with – helped me select a leather hide that would be appropriate for my specific project and, although I didn't have time to wait for swatches (which they can easily provide), the leather I selected was consistent with how it looked online. This particular leather was called "Aged Copper Distress" and it is so gorgeous. I wish you could see it in person. I'll be having a giveaway for the Leather Hide Store here very soon, so stay tuned!
This jacket pattern is such a nice one to play around with. There are accent pieces that can be added around the shoulders – I did that on my muslin and I love them! I considered stitching the shape onto the leather, but just couldn't bring myself to do it. I knew I'd end of with non-symmetrical sides and would be so mad at myself. With woven fabrics, though, the accent pieces are easy peasy and turn out so cool. Check out some of the pictures of jackets that others have sewn to see what I'm talking about.
This isn't the first time that I've raved about Pattern Anthology. These girls have their stuff together! I know that every pattern is going to give me the information and support I need to make a garment that fits well and is stylish. Now, go get your patterns and get going on your wardrobe! I'm not sure which pattern I'm sewing next, so hard to decide!
This collection includes:
The Neptune Tee: A casual tee with optional triangle cutouts at the front and back neckline as well as the sleeves.
The Marigold Dress: A button down dress with elastic waist, long or cap sleeve options and even a peplum option.
Go To Knit Pants: 3 styles of knit pants including leggings, straight leg pants and relaxed fit pants options.
McCartney Jacket: A zip up jacket with fun options and lots of style.
8 Days a Week is available for a limited time at a 40%+ discount.
You can purchase this collection now through October 6th. Get more details HERE.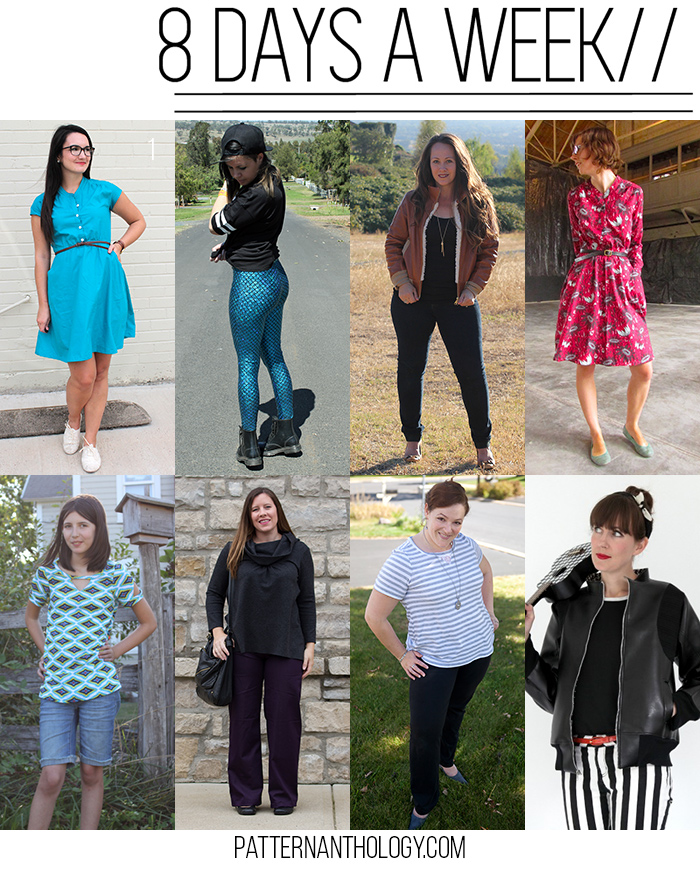 Sew Caroline / Max California / Girl. Inspired / Old House Mama
Sonicka Made / Andrea's Notebook / Pattern Revolution / No Big Dill