You guys know how much I love to get all wrapped up in big, elaborate party plans. It's really one of my favorite things – not the stress of trying to pull it all together by GO time, but actually seeing the vision come to life and light up the faces of my little girls. Sometimes, though, parties need to be quick and easy. Grace, in particular, is much more excited by the idea of a birthday party in a big happenin' public location than seeing how beautifully I can craft up a party at home. She asked for a gymnastics party again this year (you can see last year's gymnastics party here). Two days before her party, she started having extreme abdominal pain and we ended up in the ER, which led to surgery to remove her appendix. We had to reschedule the party and finally got to celebrate this past weekend. Grace loooooves raccoons right now, so I decided to make a Forest Friends birthday party sort of theme. I'm going to show you the few details that comprised the simplest party ever!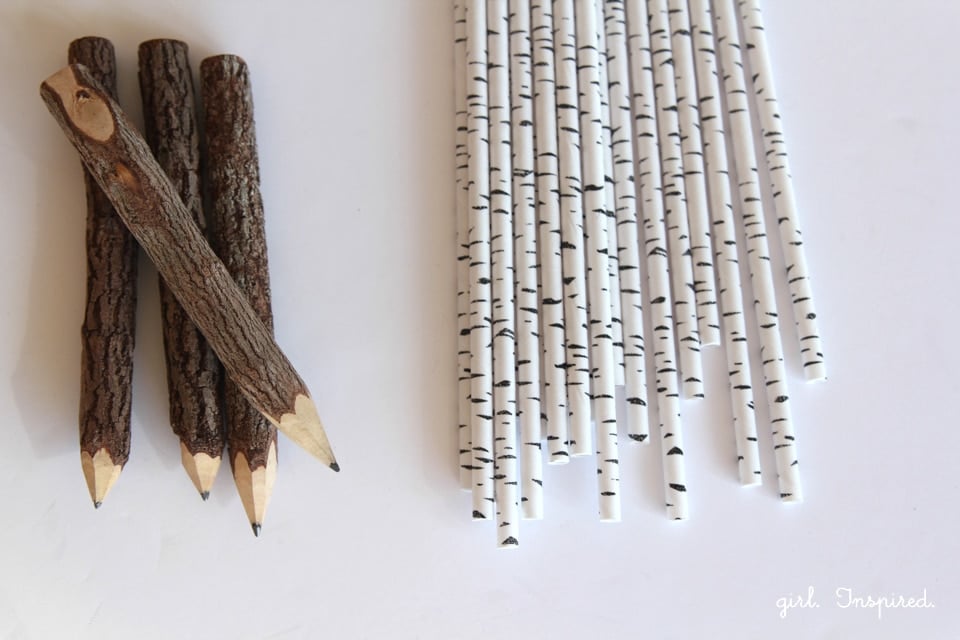 I did basically zero party prep. Back in November, I had purchased some cute birch bark paper straws
and rustic twig pencils
(affiliate links). This was back when Grace gave me a big tease, saying she wanted a "Husky" party. In the two days before she switched back to "gymnastics party," I had all kinds of winter wonderland party plans sketched up. Anyhow, I went ahead and used those items as a foundation for coordinating the "Forest Friends" supplies for the gymnastics party.

A quick trip into the dollar store and a few supplies I had on hand provided everything I needed for the party favor bags. Party bags contained: a few pieces of blue candy, bouncy ball (dollar store), growing dinosaur (dollar store), raccoon sticker (details below), rustic wood pencil (Amazon), blow toy thingy (dollar store), and stamp (Target). I covered the food table at the gymnastics center with a roll of brown Kraft paper and a few cups of crayons (also from dollar store) – three bucks and done! entertainment and decor in one.


The cake…so, I made an ice cream cake back in January for Grace's actual birthday, at her request. She then proceeded to tell me she wanted me to buy the ice cream cake for her party. um, what? Must you take away every avenue for me to create something for you, Grace? A little more probing, though, and I discovered that what she really wanted was for her cake to say "Happy Birthday Grace." Well, of course! I don't ever write anything on the girls' cakes because I don't love my handwriting and I can't handle the imperfection. I realize that doesn't matter to Grace and so I made a nice rectangular ice cream cake. Basic with her name in bright blue icing, just like she wanted. I only swiped it off and rewrote it three times. And then because I have no free-hand decorating skills whatsoever, I busted out my Silhouette and found a forest friends print and cut design to add to the top of the cake. This function is so easy – the Silhouette software on the computer sends the design straight to your regular printer. After the images are printed, you put them into the Silhouette, which scans the image and then cuts them out perfectly. I made two copies of each banner, hot glued them to each side of a stripey straw, and stuck them in the top of the cake. Took about 15 minutes and I did it an hour before we left for the party – easy and stress free!


One final crafty thing – in a desperate attempt to interweave a theme into the gymnastics party, I wanted some raccoon stickers amongst the decor. Again with the Silhouette, I printed and cut out these goofy raccoons using sticker paper (I buy the sticker paper at Staples). I stuck them into the party bags, but also had enough left over to make some quick thank you cards. I am really, really bad about thank you notes and they usually haunt me for months. After this party, though, I told Grace she couldn't play with any of her presents until the thank you card was done. I found some blank note cards to use. Olivia, who was also eager to play with the new toys, sat down with Grace and wrote out the dictated message, while Grace signed her name to each card. Meanwhile, I made a few mattes out of cardstock, stuck an extra raccoon sticker on the front and glued it to each note card as Grace brought it over. We were done 30 minutes after we got home from the party – hallelujah!

So, that's about it! Let's break it down:
Shopping time: 1 hour
Party Bag Assembly: 30 minutes
Cake: 3 hours
Decor and Crafting: 2 hours total
That's pretty good, folks!! Happy birthday girl, happy friends and sisters, happy mom and dad!