I have a little announcement today.  This is something that I've been contemplating for quite a while now and I've decided to just jump in and give it a try!  Starting NEXT WEEK, on Thursdays, I'm going to be hosting an all things creative link party – It's you! Inspired!  So get your projects ready because I want to see what you've been working on!  Following each week's party, I will be featuring some of my favorite projects on the blog.  Sound fun?  I made up some buttons if you'd like to spread the word: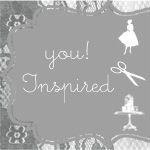 And for kicks, I made a girl. Inspired. button, too, if you'd like a little flare for your blog!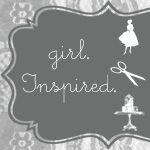 I'm really excited! So see you back here next Thursday for our first party!! And check back tomorrow for a super sweet idea!